Rochelle Wilcox wins Louisiana Early Childhood Leader of the Year
Rochelle Wilcox wins Louisiana Early Childhood Leader of the Year
Rochelle received this recognition on Saturday, July 30, 2022, at the World War II Museum . Rochelle is a former graduate of the program, early childhood partner, business owner, and leader in the community. We are proud of her accomplishments.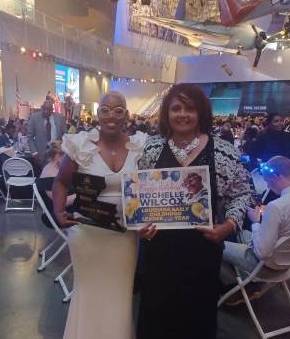 Rochelle Wilcox Bio
Rochelle Wilcox has been an early childhood education professional for over 19 years. Her advocacy for early learning started in the classroom as a teacher and led her to her current position as the CEO/Executive Director of the Wilcox's Academy Early Learning Center, Wilcox's Academy Too and Wilcox Academy Central City. She comes super-charged with an educational background including an Associate of Arts degree in Early Childhood Education from Delgado Community College and a bachelor's degree in Interdisciplinary Studies with a focus on Education in Urban Society. Rochelle is currently pursuing her M.Ed. Curriculum and Instruction: Urban Education. She was the first early learning center provider to sit on the Board of Agenda for Children, she currently sits on the steering committee of the New Orleans Grade level reading campaign. She is an overall Advocate for Early Childhood education and Early Learning center providers. But her highest honor is being a wife and a mother to 3 sons.
Her Philosophy: I believe that the child who is loved has the confidence to love others, the child who learns to love learning will thirst for knowledge and the child who has been loved and educated will lead his peers and the world.