Computer Aided Design and Drafting
Computer Aided Design and Drafting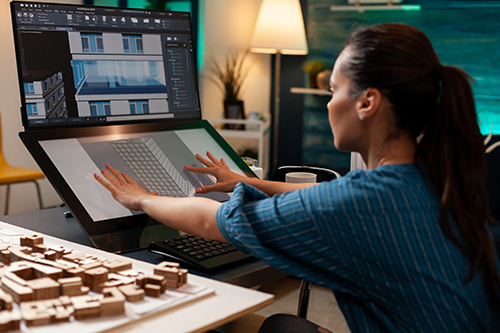 Delgado Community College offers both certificate and associate degree programs in CADD drafting. CADD drafters prepare blueprints and technical drawings for use by engineers, architect and construction companies. These drawings are used to build commercial and residential buildings, oil and gas pipelines and manufactured products. The drawings of a CADD drafter shows the technical details of the products and structures, specifying dimensions, materials to be used, and procedures and processes to be followed.
Due to the demand for talented CADD drafters who are detail oriented and appreciate the importance of good design has more then tripled. Drafters in Louisiana can earn from $20 per hour and higher.
The Louisiana Workforce Commission annual wage for Drafter is $60,769.
Upon completion of either of Delgado's drafting programs, you'll be ready to move into the workforce with the knowledge and understanding of the most current computer-aided drafting (CADD) software being used in the industry.
The Computer Aided Design and Drafting Associate of Applied Science degree program is accredited by the Association of Technology, Management, and Applied Engineering (ATMAE).
Degree Program
The College offers an Associate of Applied Science Degree in Computer Aided Design and Drafting.
View the catalog page with course sequence & required courses
Certificate Program
Delgado also offers a Certificate of Technical Studies (C.T.S.) in Computer Aided Design and Drafting. View the catalog page with course sequence & required courses
Delgado also offers a Certificate of Technical Studies (C.T.C.) in Revit. View the catalog page with course sequence & required courses
Delgado also offers a Certificate of Technical Studies (C.T.C.) in AutoCAD. View the catalog page with course sequence & required courses