Electric Line Technician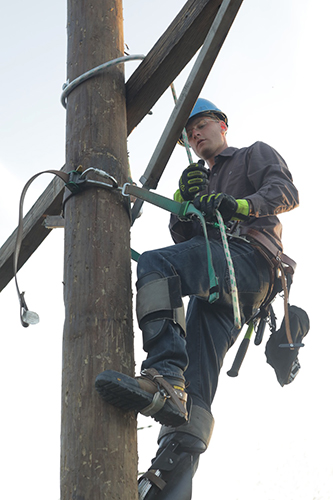 The Electric Line Technician program prepares students to build, repair, and maintain electrical distribution systems (EDS) for private and public utility companies and related employers. Classroom instruction in this program includes safety and an understanding of overall electrical system operations. Students will be expected to master competencies such as electrical distribution, basic electrical theory, underground electrical construction operation and maintenance, fundamentals of electric power systems management, electrical distribution equipment installation and installation of residential/ commercial service metering.
Hands-on practice includes framing and building single and 3 phase overhead lines, pole top and bucket rescue techniques, bucket truck operation, and Underground (URD) systems. We also provide extensive training in free climbing and hitch-hiking. Our training especially emphasizes the overriding requirements of safety and teamwork in every aspect of our work. Students will earn a Level One NCCER Power Line Worker certification upon successful completion.
Careers
Linemen are in high demand during natural disasters such as tornados and hurricanes. Approximately one-half of our nation's electrical line workers are expected to retire within the next few years. Specifically in Louisiana, the need for linemen is projected to increase 16% from 2012 to 2022. The average salary for an electric line technician in Louisiana is $24.49 per hour/ $50,939 per year (LA Workforce Commission, Occupational Wage Data, 2016).
Locations
Electric Line Technician courses take place at the Jefferson Site.
Curriculum
See the Official Program Description in the College Catalog.
Duration
It takes approximately 9 months to complete the Electric Line Technician program.