HVAC/R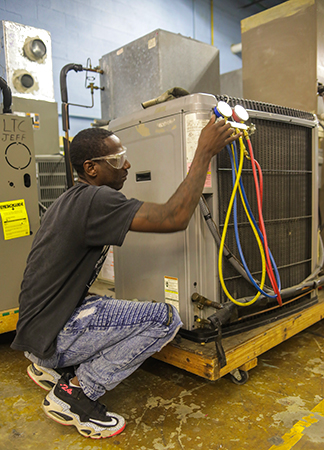 The HVAC/R program is accredited by the Committee on HVAC Excellence and includes a study of air conditioning, heating, and refrigeration for residential, commercial, and industrial equipment. Along with receiving instruction, students are trained to be HVAC technicians in a hands-on lab environment. The primary mission of the HVAC/R is to provide the necessary training to prepare students for a successful career in the field of HVAC/R with a goal of business owner or service manager.
The Master HVAC/R Technician program will provide the majority of intensive training needed for the skills needed for any type or branding of HVAC/R equipment. In addition to the Master HVAC/R Technical Diploma, a Certificate of Technical Studies in Certified HVAC Technician is also offered.
Download program information sheet.
Locations
HVAC/R courses are offered at the Sidney Collier Site and the Jefferson Site.
Careers
The HVAC/R industry has grown into one of the higher-paying career paths. The opportunities are endless in this career. Every building today has some kind of climate control system and over 80% of residential homes being built have central air conditioning systems and most commercial buildings (restaurants, hotels, hospitals, etc.) use modern Energy Management Systems (EMS) to efficiently operate their facilities. Most Master HVAC/R technicians are business owners or service managers. Certified technicians are needed to troubleshoot and maintain HVAC systems at residences and commercial buildings. The average salary for HVAC installers and mechanics in Louisiana is $21.51 per hour/$44,741 per year (LA Workforce Commission, Occupational Wage Data, 2016).
Curriculum
See the College Catalog for official program descriptions of the following programs:
Program Duration
It takes approximately 9 months to complete the HVAC Technician program and 18 months to complete the Master HVAC/R program.