Residential Construction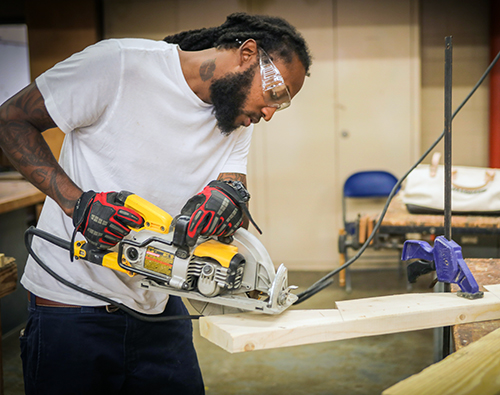 The Residential Construction C.T.S. program prepares individuals to apply technical knowledge and skills to layout, fabricate, erect, install, and repair wooden structures and fixtures using hand and power tools. The program also includes instruction in areas such as common systems of framing, construction materials, estimating, blueprint reading, and finish carpentry techniques.
Campus
Residential Construction classes are held at the Jefferson Site.
Careers
Residential carpenters typically specialize in new home, town home, and condominium building and remodeling. Employment of carpenters in Louisiana is projected to grow 19% from 2016 to 2024. The average salary for a carpenter in Louisiana is $23.80 per hour/ $38,993 per year (LA Workforce Commission, Occupational Wage Date, 2016)
Curriculum
See the Official Program Description in the College Catalog.
See the Residential Construction advising sheet here.
Program Duration
It takes approximately 13.5 months to complete the Carpentry program.