Residential Electrician
The Residential Electrician C.T.S. Program is designed to prepare students for residential entry-level electrician positions. Building and equipping electrical power generating homes that use electrical energy for heating, lighting, cooling are other operations among the career opportunities for which students will prepare.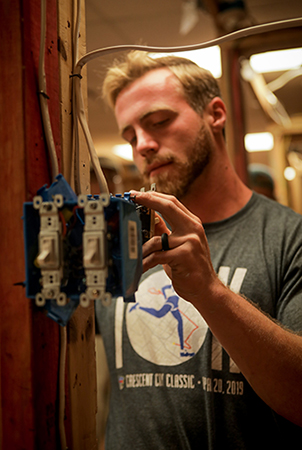 Residential electricians are likely the type of electrician who we are all most familiar with. Ultimately, domestic electricians are responsible for installing and repairing any and all electrical wiring in a residential setting. From the breaker unit to the wire running across the walls in the attic, domestic electricians are the go-to pros for any household electrical work.
Campus
Residential Electrician courses are held at the Sidney Collier Site and the Jefferson Site.
Careers
Electricity is essential to everyday life and qualified electricians are needed to install wiring in homes. You can seek employment with electrical contractors, private companies, or even start your own business.
The average salary for an electrician in Louisiana is $24.43 per hour (LA Workforce Commission, Occupational Wage Data, 2016).
Curriculum
See the Official Program Description in the College Catalog
See the Residential Electrician advising sheet here.
Program Duration
It takes approximately 9 months to complete the Residential Electrician program.