Student Organization List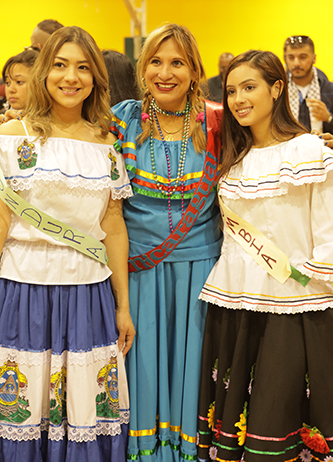 Three types of organizations offered at Delgado. Divisional-organized to promote student interest in a field of study. Honorary-membership is based on scholastic achievement. Specialty-organized to foster interest in a particular area of specialization.
ACS Chemistry Club (Divisional)
ChemClub gives students a unique opportunity to experience chemistry beyond the classroom. Students engage in activities that enhance their understanding of the science, get them involved in the community, and help them better appreciate how chemistry plays a role in our everyday lives.April Noble; Marcus Etienne
Advisors: April Noble, anoble@dcc.edu, and Marcus Etienne, metien@dcc.edu
City Park Campus
---
Biology Club (Divisional)
Biology club is open to all students at all campuses that are interested in the life sciences. We are focused on field trips, service work, hosting guest speakers, and exploring all aspects of biology around us.
Advisor: S. Chieko Hunter, shunte@dcc.edu
Sidney Collier Site
---
Collegiate DECA (Divisional)
Join more than 15,000 members on 250 campuses across the world who are preparing for careers in Hospitality, Marketing, Finance, Management and Entrepreneurship. By joining Delgado's Collegiate DECA Chapter, you will have opportunities to:
Extend learning beyond the classroom by participating in community-based events
Gain a competitive edge in the global job market
Develop a strategic decision-making and project management skills
Network with business and industry experts and nearly 15,000 students and advisors
Earn awards and recognition through competition and leadership action
Advisor: Barry Brantley, bbrant@dcc.edu
City Park Campus
---
Criminal Justice Club
The Delgado College Criminal Club is for all students studying criminal justice. Students are afforded the opportunity to become more involved in college and community activities while building a network related to their criminal justice interest. We are committed to helping students achieve their academic and profession objectives by provided relevant information, skill building, and leadership opportunities.
Advisor: TBA
**Currently trying to reestablish. Contact Student Life for more information.
---
Delgado Association of CADD (Divisional)
Student organization for students enrolled in the Computer Aided Design and Drafting Associate of Applied Science degree program.
Advisor: calvar@dcc.edu
Sidney Collier Site
---
Delgado Architecture Student Organization (DASO) (Divisional)
To provide leadership skills in managing a student organization. To recognize and promote a need to get the students involved in educational service learning activities on campus as well as in the community. To network with the Business and Industry professionals and alumni. Attend seminars, trade shows, and participate in competitions on a national level. DASO is affiliated with National Association of Homebuilders (NAHB), Homebuilders Association (HBA), CSI, AIAS, NAWIC, and CMAA.
Advisor: calvar@dcc.edu
Sidney Collier Site
---
Delgado Education Associate (Divisional)
DEA (Delgado Education Association) is a strong, well-organized student association of future professionals majoring in Care and Development of Young Children and related professions.
Advisors: Lisa Melson, lmelso@dcc.edu,, and Lydia Goellner, lgoell@dcc.edu
City Park Campus
---
DCC-SARC (Delgado Community College-Student Association of Respiratory Care) (Divisional)
DCC-SAC is open to students currently enrolled in the Respiratory Care Technology Program. Our mission is to support lung health through participation in walks and fundraising for various lung diseases.
Advisor: Rene Randall, rspang@dcc.edu
City Park Campus
---
LUMCON Marine Science Club (Divisional)
The LUMCON Marine Science club is sponsored by the Louisiana Universities Marine Consortium. The Marine Science club provides undergraduates with the opportunity to engage with LUMCON and explore STEM careers related to marine science. In this club, we encourage students to become involved in environmental questions and solutions here in Louisiana, completing projects that have real impacts in our communities. Beyond service, the Club also offers networking, education and outreach opportunities for students interested in environmental and marine science issues
Advisors: M. Karen Menge, kmenge@dcc.edu and Jordan Adams, jadams@dcc.edu.
City Park Campus
---
NALPN (Divisional)
The Mission of the National Association of Licensed Practical Nurses (NALPN) is to foster high standards of nursing care and promote continued competence through education/certification and lifelong learning, with a focus on public protection. The National Association of Licensed Practical Nurses is committed to: Quality and professionalism in the delivery of nursing care working with other organizations and groups in a cooperative progressive spirit to build strong professional and public relationships. For student membership they can go to NALPN.org
Advisors: Jana Martin, jmarti1@dcc.edu, and Linda Hueshan, lhuesc@dcc.edu
Jefferson and Sidney Collier Sites
---
Pharmacy Technician Student Organization (Divisional)
The purpose of the Pharmacy Technician Student Organization is to offer support and resources to students who are currently enrolled in, or who have completed, the Delgado Community College Pharmacy Technician program.
Advisor: Anne LaVance, alavan@dcc.edu
City Park Campus
---
PNSAD (Divisional)
PNSAD - Students enrolled in the practical nursing program may apply for membership
Advisors: Nelica Alexis, nalexi@dcc.edu
Jefferson and Sidney Collier Sites
---
SkillsUSA (Divisional)
SkillsUSA is a national membership association serving high school, college and middle school students who are preparing for careers in trade, technical and skilled service occupations, including health occupations, and for further education. SkillsUSA is a partnership of students, teachers and industry working together to ensure America has a skilled workforce. SkillsUSA helps each student excel.
Advisor: Chris McDonald, cmcdon@dcc.edu
City Park Campus
---
Delgado Theatre Club (Divisional)
The Delgado Theatre Club is a student led, student driven organization that offers Theatre majors and non-majors an opportunity to participate in the production aspects of the theatrical arts including the technical fields, performance, and administrative responsibilities while promoting a diverse, supportive, and fun community. The Theater Club is for anyone interested in drama, comedy, musicals, acting, dance, costumes, backstage, set design, and lighting work. The club also promotes field trips to other theater groups. Membership is open to all students in all majors.
Advisor: Kris LaMorte, klamor@dcc.edu
City Park Campus
---
Veterinary Technology Club (Divisional)
The club is linked to the National organization NAVTA. Students accepted into the Veterinary technology program that pay club dues can join the club.
Advisor: Jennifer Limon, jlimon@dcc.edu
Jefferson Site
---
Delta Psi Omega (Honorary)
Delta Psi Omega, the National Theatre Honor Society, was organized as a theatre honor society for the purpose of providing cknowledgment to those demonstrating a high standard of accomplishment in theatre. DPO requires work onstage and backstage, plus an overall 2.5 GPA.
Advisor: Kristopher Lamorte, klamor@dcc.edu
City Park Campus
---
Mu Alpha Theta (Honorary)
Mu Alpha Theta, the National High School and Two-Year College Mathematics Honor Society, was formed in 1957 at the University of Oklahoma. We are dedicated to inspiring a keen interest in mathematics, developing strong scholarship in the subject, and promoting the enjoyment of mathematics in high school and two-year college students. Currently, more than 124,000 students are Mu Alpha Theta members at more than 2,633 schools in the United States and in 23 foreign countries. Students must have an overall GPA of 3.2 or higher and GPA of 3.5 or higher in at least 2 college-level math courses.
Provides a method for schools to recognize and encourage students who enjoy and excel in mathematics
Rewards outstanding achievement by offering special awards, scholarships, and grants to students
Advisors: Darlene Williams, dwilli1@dcc.edu
City Park Campus
---
Phi Theta Kappa (Honorary)
Phi Theta Kappa International Honor Society is a non-profit organization that is recognized by the American Association of Community Colleges (AACC). PTK members can apply for transferable scholarship opportunities to four-year colleges and universities. Eligible students are sent invitations via e-mails and the mail.
Advisors: Kim Russell, krusse@dcc.edu, and Emily Clay, eclay@dcc.edu
Charity School of Nursing, City Park, West Bank, and River City Campuses, and Sidney Collier Site
Social Media: @ptkomeganudcc
---
Sigma Alpha Chi (Honorary)
Charity School of Nursing Honor Society, admission by invitation only having earned the required GPA.
Advisors: Shannon Perkins, sperki@dcc.edu
Charity School of Nursing Campus
---
Student Honors Council (Honorary)
The Delgado Student Honors Council organizes co- and extra-curricular activates related to honors education. It also serves, along with the Faculty Honors Council, in an advisory capacity to the academic honors program.
Advisor: Steven Edwards, sedwar@dcc.edu
City Park and West Bank Campuses, Sidney Collier Site
Social Media: @DCCHonors
---
Active Minds (Specialty)
Active Minds is the nation's premier nonprofit organization supporting mental health awareness and education for students.
Advisor: TBA
City Park Campus
---
Charity Association of Student Nurses (CASN) (Specialty)
CASN, Charity Association of Student Nurses, is the local chapter of the national and Louisiana student nurse organizations of the American Nurses Association. Its primary mission is to introduce student nurses to nursing as a profession. Activities include many community service events, orienting new students to the professional behaviors of nurses.
Advisors: Carol Leefe, cleefe@dcc.edu, and Mary Trosclair, mtrosc@dcc.edu
Charity School of Nursing Campus
---
GSA - Genders and Sexualities Alliance (Specialty)
Genders and Sexualities Alliance (GSA)
GSA is an organization for LGBTQ+ students and their allies. Our mission is to create a safe, supportive community, to provide opportunities for social interaction, and to promote LGBTQ+ awareness and visibility on campus.
Advisors: Abbey Wallig, awalli@dcc.edu, and Audra Rouse, arouse@dcc.edu
City Park Campus
Social Media: @dccgsa
---
SGA (Specialty)
The Student Government Association represents the students' voices while supporting the academic mission of the College. This is done by providing vital co-curricular activities that enhance individual student development. We also promote participation in self-governance and uphold the high standards of education at Delgado Community College.
Advisor: Amy Trainor (College-wide), atrain@dcc.edu, Tenisha Slaughter, tslaug@dcc.edu (Sidney Collier); and Raul Salas (Charity School of Nursing), rsalas@dcc.edu
Social Media: @delgadosgacitypark and @dccsga
---
Spectrum (Specialty)
Spectrum is a multicultural organization that unites all students to assist them in meeting their academic goals and social needs. Spectrum is a place for all to fit in. This organization focuses on the building of character, implementation of various community and school projects that concern both nursing students and students from all the campuses. This organization believes that health promotion and health education is important to provide information to the community that will enable them to make informed decisions related to their healthcare. Membership is open to any student at Delgado community College.
Advisor: Shena Sanders, ssande@dcc.edu, Johnnie Mose, jmose@dcc.edu, and Dr. Karen Macey-Stewart, kmacey@dcc.edu
Charity School of Nursing and City Park Campuses
---
TRiO Student Support Services Ambassadors (Specialty)
The Student Support Services Ambassadors is a Delgado Community College leadership and community service organization affiliated with Delgado's Office of Student Support Services/TRiO. In order to become a member of the Ambassadors, eligible students must apply and enroll into the Student Support Services program. Ambassadors are active participants in the program who accumulate community service hours each semester. Ambassadors serve as peer mentors to other participants in the program, represent the program at school-sponsored activities, organize fundraising events and attend monthly meetings with program advisors.
Advisor: Monica Curtis, mcurti@dcc.edu
City Park and West Bank Campuses, Sidney Collier Site
Updated 5/19/2022