COVID-19 Pre-Screening Using the Delgado App
In August 2020, the College introduced a self-reporting, pre-screening COVID-19 add-on tool to the Delgado Community College mobile app, which is currently in use by many students, faculty and staff. The app is available in the Apple and Google app stores and you can download it to a phone, tablet, computer, or mobile device at no cost.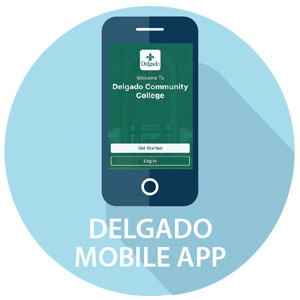 Students, faculty, and staff coming to campus will need to run the prescreening process once daily, each time they visit the campus. The process will launch a series of questions that must be answered by the app user. Complete directions for faculty and staff follow.
HOW TO COMPLETE YOUR DAILY COVID-19 PRE-SCREENING
To complete your daily COVID-19 pre-screening using the Delgado mobile app, follow the instructions below: