How Much Does Your College Tuition Cost
February 15, 2022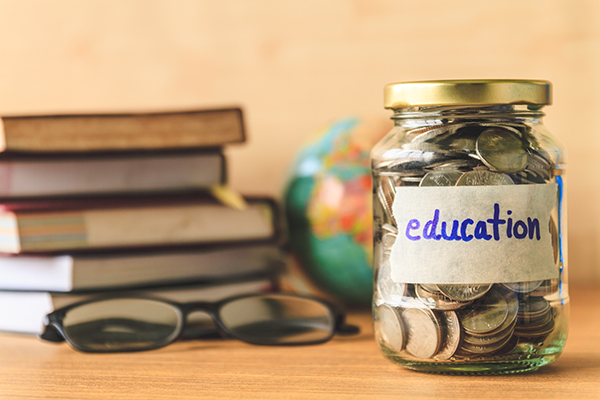 If all these different institutions are offering the same thing—a Bachelor Degree or an Associate Degree—shouldn't it cost the same everywhere?

Not quite. Unfortunately, this can be confusing for prospective students who are trying to understand how much money they really need to finance their education. The obscure but presumably high cost of a college education keeps many from ever attempting to even enroll. However, statistics prove that you are much more likely to either a) find a higher-paying job and b) have a lifelong career with an Associate or Bachelor degree. The investment is possible and absolutely worth it if you make an informed decision!

While the wide range of options can be daunting, it also allows students to choose what is best for their needs and their budget. One thing remains true: you can't prepare for college fees if you don't know what they are. Knowing about all of the different costs, both the fixed expenses and the optional ones, will allow you to narrow down your college choices and make a better financial plan. Let's get started!
Before we go on to examine the breakdown of attending college, we'd like to acknowledge that in many cases, there is a cost associated with the admissions process. Most 4-year universities charge an admissions application fee, which costs on average $43, according to a 2020 survey. The good news is that most 4-year institutions have application waivers for low-income prospective students, and many 2-year institutions don't have application fees at all. Delgado, for example, has no application fee.
Regardless of the price tag, on admissions application forms, don't let that deter you from applying. Check the institution's website to request an application fee waiver, and if you do not find it, reach out to an admissions representative explaining your situation. Another great resource is applications that are shared among a cohort of schools. Historically Black Colleges and Universities, for example, use the Common Black College App, which allows you to apply to 49 schools for the price of one. The Common App is another application that is accepted by many schools, some of which do not charge application fees. Lastly, some university systems, such as the California State University system, automatically consider you for a fee waiver based on your background and application responses.
#ProTip
Going to college soon? It's the perfect time to ask the representative about application fees! That is your go-to person to give you the scoop on fee waivers or event to provide a waiver on the spot.
When it comes to admissions, another expense to keep in mind is the cost of taking standardized tests. The SAT and ACT are sometimes part of the requirements for admissions, and students are expected to take one of these tests at least once. However, given concerns over equity and whether standardized test scores truly reflect a student's ability to succeed in college, there is a growing trend of schools becoming "test-optional" institutions. Community colleges and technical schools generally don't require standardized test scores. Plus, if you are planning on transferring to a 4-year university after community college, your standardized test scores are not as heavily scrutinized compared to the institution's first-year applicants because you have demonstrated college-level potential.
Similar to admission applications, testing companies or your school may have fee waivers available for eligible students, especially if they are low-income. Be sure to check whether the colleges on your wishlist require standardized test scores. If so, you may be eligible for a test fee waiver.
Cost of Attendance
The cost of attendance is the sum of fees, plus expenses (whether classroom-related or personal) associated with being a college student. These expenses include both direct costs—expenses paid directly to the institution—and indirect costs—expenses not paid directly to the institution. For example, the parking fee you pay to a school is a direct cost, while the money you pay to at the bookstore for a chemistry textbook is an indirect cost.
You can think about it like this:
cost of attendance = direct costs of your education + indirect costs of your education.
Direct Costs
Tuition
A large part of direct costs in a higher education institution is made up of tuition, plus other class-related fees. Tuition is the base cost per class unit or credit hour that a student enrolls in per term. A unit or credit hour in higher education means how many points a student earns for taking a class, and it is usually related to how many hours you spend in class or lecture.
Example I : If Emilia takes a Math class that is worth 4 units, then they can expect to spend about 4 hours each week in lecture (class), and about 8 or more hours preparing for it and doing homework. If she passes this class, she will have earned 4 credits toward her degree or graduation. This means that any student taking classes will have to pay tuition. Emilia will have to pay for tuition whether she lives on campus or not, or whether she has a meal plan or not. Tuition pays for things like the cost of an instructor's salary, the maintenance of classrooms, campus security, among other dividends.
Your total tuition varies depending on how many credits you are taking, which is known as your "student status." That is, a student can have full-time status (usually defined as 12 units or more), or part-time status (usually defined as less than 12 units).
Example II: Irma, an Economics student, is a part-time student because she works full time and can only take 2 classes per semester. Andy, meanwhile, is a full-time student because he usually takes 4-5 classes per term. As a result, Irma pays lower tuition charges than Andy. While community colleges generally charge tuition and fees by the unit (e.g. $100 per unit), some institutions have flat part-time, full-time, and even three-quarter time fees (e.g. $4,000 for full-time students, $2,000 for part-time). Because each institution defines part-time status differently, it is best to consult with your particular school's Financial Aid Department to inquire about these definitions and their associated tuition costs.
[!] Important
Unfortunately, undocumented students face out-of-state fees event in their own state of residence. Be sure to know your state's policy on tuition fees and speak with your institution's admissions office about your case. Some schools mistakenly categorize undocumented students as international students (which may result in reduced financial aid options).
Fees
There are also other fees you must pay , though they are much smaller than tuition. These cover your in-class experience, campus maintenance, and other operational costs that keep your college operational and accredited. Lab and classroom fees are an example of a common fee applied to students when they enroll in certain science courses that have a lab component. For example, your nursing program may need to purchase new equipment periodically to make sure the technology is the same that a hospital would have. A student activity fee usually covers student events and student organizations.
The bottom line? It is okay to look through your bill item-by-item to understand it; it is also okay to ask questions to your institution whenever you don't understand a charge.
Out-of-state fees engulf certain costs onto students who attend school outside of the state where they are considered a resident of. The price tends to be double the cost of in-state tuition. Unfortunately, this means that if I'm a student in Idaho hoping to attend a state school in Texas, I may expect to pay $12,000 for out-of-state fees in addition to the base of $12,000 in tuition every year. That totals to $24,000 a year before other fees and personal expenses are added. Recently, Delgado began to offer everyone the same basis of tuition rates, no matter what a student's residency status is. This means in, and or, out of state students will be billed the same.
People who attend a public school in their home state do not worry about out-of-state fees. Why? This is because public institutions are subsidized (financially supported) by their state's tax dollars. Residents of that state have been paying state taxes to enjoy those benefits. State schools, A.K.A. public universities can be easily identified because they tend to be part of a network (e.g. the UL system in Louisiana, or the CSU system in California).
Private universities, on the other hand, do not generate state funding because they are privately owned, ran, and funded. This means that there is—generally—no difference in cost for someone who lives or doesn't live in the state where a particular private university is located.
Room & Board
Room and board is often included in the "Cost of Attendance" estimates that a college provides to prospective students. This usually includes the cost of living in student housing, plus a meal plan. The traditional campus experience will require you to live in a certain city or region. While most 4-year colleges (public or private) offer dorm living,some even require it, unlike places like 2-year schools and community colleges who do not.
Most students (and even parents) assume that the dorm life—even with its small rooms,shared bathrooms and kitchens— that the cost would be more proportional to what is offered, in comparison to finding a place to rent nearby, but that's not always true. It's up to you to compare the cost, because in many cases, dorms can be just as expensive as finding an apartment or house elsewhere.
While there are certain conveniences of on-campus living, such as campus security, no need for transportation, close proximity to cafeterias, and more, they can be offset by certain limitations. Often times, dorms are typically only open during the school's operational time of year. Recently, many dorm dwellers were displaced due to the 2020 Covid-19 Pandemic. Students across the country were forced to move elsewhere, while figuring out their transportation, and unexpected moving expenses. This also means during holiday breaks and summer breaks, many colleges and universities force students to relocate. You are essentially paying for about 9 months of actual residence per year in a dorm. Meanwhile, a typical lease agreement has no problem with you staying every day of your agreed-upon lease.
Did You Know?
We have a whole blog on different ways you can cut cost! Student Resources and other money saving tips gives you a thorough review of other ways to save on both direct and indirect cost.
The same goes for food. You may have the convenience of daily cafeteria access, but it may end up costing you more than grocery shopping and preparing your own meals.
What if you plan on commuting to school? Or want to get a place with roommates near campus? If you answered yes to either of these questions, then you won't have to pay any Room and Board fees. This option is great for people who are looking to cut costs as much as possible, since Room and Board is sometimes half of the overall Cost of Attendance! It's important to note that many universities do not allow freshmen to have a car while residing on campus. However, not living on campus may compromise someone's ability to get "the full university experience" as you won't be quite as close to the campus culture and activities.
Indirect Costs
Materials and personal expenses
As you may recall, indirect costs are merely a byproduct of attending college. They include everyday things you are going to have to purchase in order to attend class or complete assignments. Even online-only students have indirect costs, like a home computer alongside strong internet service.
Some of the most common indirect costs include:
Classroom supplies like notebooks, backpacks , or calculators

Textbooks

Transportation

Food (outside of a prepaid meal plan)

Prop

er clothing for internships or laboratories
While there is some flexibility in whether you purchase some supplies (do I get a new laptop or keep this one for another year?), how much you spend on some items (do I spend $20 on fancy pens or just $5?), there are certain supplies that you cannot do without. In some cases, classroom materials are built into the tuition and fees, but not always. For example, if you are taking a math class that requires a very specific calculator model, chances are you may not be able to purchase a cheaper model because it may not be allowed. Meanwhile, nursing majors will need specific scrubs to work in various hospital settings. Your indirect costs depend on your chosen major.
The total indirect cost of going to college is almost impossible to calculate 100%, because there are so many things you do everyday that are a result of going to college. While you were most likely already driving or taking public transportation before becoming a college student, the fact remains that you now come to the campus once or more during the week, which will directly impact how much you're spending on gas or bus fare, plus the indirect costs of your traveling routine.
Same goes for food costs. Your indirect costs will be different depending on when you choose to pack a lunch, grab a snack at a vending machine, or get on-campus food.
Indirect costs will be just a little different for everyone, but with the help of the right college or university, the most important and consistent indirect costs will be taken into account. It is still possible to budget using the indirect costs you know you'll have to pay for ahead of time.
Forgone Earnings
Foregone earnings are the amount you could have earned but didn't because you chose to devote your time to something else, like college.
The total depends on your situation, budget, and needs. For those starting college just after high school and with no work experience, foregone earnings for the first two to four years will not be as big of a deal because young workers typically start in entry-level jobs with lower wages. On the other hand, someone who has been working full-time for years and is used to a certain income may feel a substantial loss in their bank account when they become full-time student.
Foregone earnings are usually seen in a negative light. Who wants to study when you could be making money? However, that is only the short-term outcome.
When we look at the long-term aspect of foregone earnings, we have to compare and contrast two questions: a) how much money would you make over a period of 15 years if you continue to work full-time without getting a degree? Versus b) how much your potential income will be over a period of 15 years if you get the degree and found a higher paying position, or if you were promoted to a higher position because of your advanced degree?
You'll see that in a few years, the foregone earnings will matter less and less thanks to the higher income you may earn because of your decision to go to college. Of course, we also have to consider out of pocket tuition costs that come out of your pocket, but we'll get there in Chapter 5.
Tuition and Fees Transparency
There's one last but very important thing you need to keep in mind: Tuition & College Fee Transparency. When choosing a college or university, one of the most important things to keep in consideration is how honest an institution is about their costs and what your money funds. The more transparent a college is about their fee structure, and where exactly your money is paying fords, the more likely you can trust them as an institution with integrity.
Here's an example of what a tuition and fee schedule can look like (from Delgado's catalog):
Spring 2022 Tuition and Fees
Tuition
Board Authorized Fees
Self-Assessed
HRS
Tuition
Other Charge
Operational Fee*
Academic Excellence*
Building Use Fee*
Student Services Fee*
Enterprise Resource Planning Fee*
Delgado Course Complete
Technology Fee*
Total Per Hour
Tuition & Registration Fees
refundable
refundable
non-refundable
non-refundable
non-refundable
non-refundable
non-refundable
non-refundable
non-refundable
1
$133.93
$5.03
$3.00
$7.00
$4.00
$7.00
$5.00
$25.00
$5.00
$194.96
2
$267.86
$10.06
$6.00
$14.00
$8.00
$14.00
$10.00
$50.00
$10.00
$389.92
3
$401.79
$15.09
$9.00
$21.00
$12.00
$21.00
$15.00
$75.00
$15.00
$584.88
4
$535.72
$20.12
$12.00
$28.00
$16.00
$28.00
$20.00
$100.00
$20.00
$779.84
5
$669.65
$25.15
$15.00
$35.00
$20.00
$35.00
$25.00
$125.00
$25.00
$974.80
6
$803.58
$30.18
$18.00
$42.00
$24.00
$42.00
$30.00
$150.00
$30.00
$1,169.76
7
$937.51
$35.21
$21.00
$49.00
$28.00
$49.00
$35.00
$175.00
$35.00
$1,364.72
8
$1,071.44
$40.24
$24.00
$56.00
$32.00
$56.00
$40.00
$200.00
$40.00
$1,559.68
9
$1,205.37
$45.27
$27.00
$63.00
$36.00
$63.00
$45.00
$225.00
$45.00
$1,754.64
10
$1,339.30
$50.30
$30.00
$70.00
$40.00
$70.00
$50.00
$250.00
$50.00
$1,949.60
11
$1,473.23
$55.33
$33.00
$77.00
$44.00
$77.00
$55.00
$275.00
$55.00
$2,144.56
12
$1,607.16
$60.36
$36.00
$84.00
$48.00
$84.00
$60.00
$300.00
$60.00
$2,339.52
13+
Tuition and Registration Fees above cap at 12 credit hours for traditional delivery courses. Online courses have no cap; Tuition, Other Charge, Student Services Fee, ERP Fee, and Delgado Course Complete are assessed at a rate of $133.93, $5.03, $7.00, $5.00, and $25.00 per hour respectively.

16+
(13+ Summer)

An additional Excess Credit Hour Fee of $150.96 and Delgado Course Complete Fee of $25 are assessed on all traditional credit hours taken by a student that are over 15 credit hours (12 credit hours for the summer).

You can see exactly what you can expect to pay for each credit you enroll in, and if you look through the page a little more, you can find out exactly what fees you'll be charged and what they cover.
Are you having to play detective on a school's website for 30 minutes searching for tuition costs? Do you have to make an appointment with a recruiter or fill out a form in order to get information about tuition and fees? These are red flags! For-profit institutions are notorious for this practice. A simple "tuition and fees" search on a college website should be enough. You wouldn't buy a mystery bag labeled "degree" for $24,000, so why would you want to commit to paying thousands of dollars to a school without knowing the exact cost or what exactly you were paying for?
Conclusion
The cost of your education does not have to be a mystery. However, planning and research holds the key! Being an informed prospective student means that no matter how expensive a college education may sound, you will know exactly which expenses are necessary and which aren't, how to better compare the value of colleges to their respected programs, thus you will not be caught off guard by college-related expenses.
Now that you've learned all about college fees surrounding tuition, it's time to discover what sort of financial aid options are available, including those mysterious scholarships that everyone talks about.