Student Resources & Other Money-Saving Tips
July 25, 2022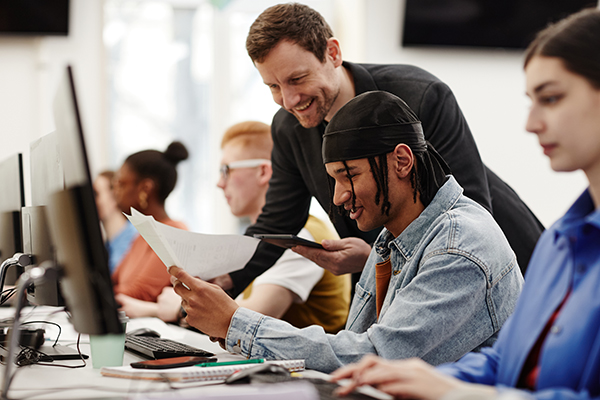 So you've gotten admission into your college of choice and have all your financial aid paperwork squared away—awesome! But, perhaps you're still feeling a little nervous. After all, first-year enrollment is only a stepping stone of the bigger path towards college graduation.

"I paid tuition, but how will I cover transportation expenses?" "What if I fall behind on my classes? I can't afford a tutor!" "I have a disability." "My Pell grant alone can't cover all of the accommodations I need." These may be some of the things crossing your mind, and you are neither alone nor the first to experience these concerns. Institutions recognize that students need more than good study skills to succeed. We offer a wide range of resources and support that you can unlock with your "currently enrolled student" status! Let's dive in!
Student Support and Retention Programs
As you can imagine, a student's ability to have sustained college enrollment can depend on a number of factors; getting good grades, not repeating courses, having time to take courses rather than work, having money to pay for tuition, having means to get to class, and having guidance when challenges emerge. Let's learn some common terms:
Retention

refers to the likelihood that a first-year student returns to school a second year. The higher a school's retention rate, the better job that institution is doing at ensuring students come back year after year until they graduate.

First-generation

is a term used to describe people who are college students (or college graduates) and whose parents do not have a college degree from the U.S. For example, if neither of your parents have a college degree (whether an Associate, Bachelor, or higher), you are a "first-gen student."

Underrepresented

: in an educational and professional context, this describes a population that is not adequately represented in a field or specific role . That is, if 20% of tech start-ups are led by women, then women are underrepresented in tech start-up leadership because women are almost 50% of the population.

Court-impacted/system-impacted

refers to people who may be involved in immigration or legal proceedings. "Court involved" may also refer to these individuals, though it can also refer to their family members who are affected by this experience. A student whose mother is serving a prison sentence, would be considered system-impacted.
Now let's look at some common programs that support students beyond their financial aid package.
A) Federal Programs
TRiO Programs
According to the Department of Education, "TRIO Programs (TRIO) are Federal outreach and student services programs designed to identify and provide services for individuals from disadvantaged backgrounds." They focus on serving first-generation college students, low-income students, and students with disabilities.
These TRiO programs exist across the country and serve current college students:
Veterans Upward Bound

: through counseling, instruction, and mentoring, this program helps veterans enroll and complete post-secondary education through resourceful programs.

McNair

: supports, trains, and mentors high-achieving underrepresented college students, to encourage them to enroll into a graduate program.

Student Support Services

: supports college students who are first-generation, low-income, or have a disability, by providing them with academic guidance, tutoring, and other types of assistance they may need in order to successfully complete their college degree.
These TRiO programs serve individuals who are not current college students:
Upward Bound

: this is a college-preparation program for high school students who are low-income and first-generation students.

Upward Bound Math-Science

: similar to the program above, this program helps high school students build math and science skills to encourage pursuit of degrees and careers in emerging fields.

Talent Search

:

"provides academic, career, and financial counseling , while encouraging students to graduate from high school and continue on to their postsecondary education." For students who have left their studies, it encourages them to re-enroll and complete their post-secondary education program.

Educational Opportunity Centers

:

provides counseling and information on college admissions to qualified adults who want to enter or continue a program of postsecondary education.
Educational and Training Voucher Program
ETV is part of the Chafee Foster Care Independence Program, and provides financial assistance to transitional aged youth for the purpose of post-secondary education and training.
Supplemental Nutrition Assistance Program
Also known as SNAP, this is a federal food assistance program for low-income individuals and children. Many studies have shown that a hungry student is a student who will struggle to learn, and some students may find it challenging to pay for their food expenses. Check if you're eligible for SNAP at fns.usda.gov.
College Assistance Migrant Program
CAMP supports migratory/seasonal farmworkers and their children in their first year of post-secondary studies through counseling, tutoring, stipends, and housing assistance, among similar things.
Pathways
The Pathways program offers paid internships and fellowships in federal offices for college students and recent graduates. These are not only great ways to supplement your income while having meaningful learning experiences but also the perfect means to start your career.
B) State Programs
Each state has its own unique programs for its institutions and students. As we mentioned in Chapter 5, these can take the form of state financial aid grants, but they can also take the form of saving plans, tuition waivers, and special loans. In Louisiana, the START Savings Program is a college savings plan that matches up to 14% of deposits made. In California, the Educational Opportunity Program assists low-income and historically disadvantaged students with the mentoring, tutoring, skill-building, and financial assistance they need to complete their undergraduate education.
Be sure to check with your particular state's financial aid office to see what resources may be available to you.
C) Institutional Resources & Programs
As you can probably imagine, not every higher education institution will have the same programs, offices, or resources. Asking for help is a common challenge for a lot of students. It's important to remember that you cannot get the support you need unless you let people know you need it. It is also important to remember that your taxes and/or tuition pay for the resources available to you in college; they exist for you to use them!
Here, we list some of the most common resources and programs that have become standard at many institutions. Please note that exact names will vary.
Student health clinics

:

especially if you are expected to purchase insurance as part of your college fees, your school may have a student health clinic where you can conveniently seek care without long waits. Often, they will feature free services and resources, all at more affordable prices than you find elsewhere.

Mental health services

:

mental health challenges are very common among students; college can be a very stressful environment. Some institutions may have in-house mental health services that students can use for free or at a reduced price, while others may not offer these services directly but can provide referrals or have partnerships with local providers.

Summer transition programs

:

high school graduates going into their first year of college greatly benefit from summer transition programs. Often called "bridge programs," though the names vary, these summer programs help ease the transition into college by providing advising, mentoring, and opportunities for building relationships at the same time that students take their first few college courses. These may also include perks like priority registration or free materials. Studies show that students that participate in these programs are more likely to have a successful first year and demonstrate higher retention rates.

Tutoring, Writing, and Learning centers

:

most colleges provide some form of free tutoring to help students build specific skills or provide extra support to understand the material they see in class. Private, one-on-one tutoring may be expensive and out of reach for many, so these free academic support services are an excellent, budget-friendly resource.

Career centers

:

another service that is often underutilized on college campuses are career centers. Students often don't realize that once they graduate, they have to pay for a professional to review your resume, help you create your LinkedIn profile, or advise you on your next career move. Take advantage of the expertise, workshops, and resources available at your career center.

Transfer centers

:

community colleges may feature spaces that support students in their academic planning beyond their Associate degree. Transfer centers offer workshops on the transferring process, advising, and even sponsor university tours so that students can find their next academic home.

Veterans' Office

:

veterans have at their disposal benefits they can apply towards their post-secondary education, yet may also face unique challenges transitioning into civilian life, especially if they are enrolling in school after a very long break. Veterans' offices support veteran students in understanding and unlocking their benefits, as well as mentoring, academic advising, and instruction to be successful in their studies.

Office for students with disabilities

:

college is already a challenging experience, and students with disabilities should not face additional barriers in their path to graduation. Institutions generally feature an office where students with disabilities can seek testing accommodations, and services like note-taking, and mobility/transportation arrangements, among others.

Wrap-around services

:

colleges are aware that students not only need academic support, they may need help with; their tax preparation, food, housing, referrals to community services, among other things. Inquire with your school about this kind of support, as it can be housed under a larger office or have a unique name.

First-generation student support

:

higher education can feel like a labyrinth of processes and institutions, especially for families that have never experienced it before. Colleges may have specific spaces or programs for first-generation students to help them navigate the unique challenges of being the first in their family to earn a college degree.

International/multicultural student centers

:

international students may understandably find themselves confused or overwhelmed by the large number of new experiences and systems they have to navigate while being a student. Similarly, children of immigrant families may feel a certain degree of culture shock and estrangement, especially if they attend predominantly white institutions (PWI's). These spaces help students build community and provide guidance in navigating their academics and career plans.

Facilities

:

there are a number of facilities available to students on their campuses to facilitate their learning and even support their wellbeing. Libraries and computer labs are some of the standard facilities campuses have. They provide quiet spaces to study, hardware and software, access to physical and electronic books, research databases, and staff who can assist you on how to best use these resources. Gyms are also a common feature for colleges, as a student's physical wellbeing certainly supports their ability to succeed academically. Once again, databases, books, and gym memberships cost money after you lose your student status, so enjoy while it lasts!

Legal aid

:

many universities with law schools offer legal assistance and even legal representation to its students, staff, and faculty, either at a low cost or free. This may be in civil, criminal, or immigration areas. Some institutions that don't provide this support directly may have a referral service.

While some colleges have full-fledged programs to support the following student populations, others may simply have trained staff across various departments who are sensitive to these populations, or partnerships with local organizations that can provide more specialized support:

Formerly incarcerated & system-impacted students
Current and former foster youth
Undocumented/immigrant students
Student parents & single mothers
Other Money Saving Tips
And there is still more!
A) Saving on Tuition
The Community College Option
As we mentioned in Chapters 1 and 2, attending community college to earn your degree is one of the main ways to reduce your cost of attendance as much as possible. As an example, let's compare the costs per semester of attending Delgado Community College versus the average costs at other types of higher education institutions in Louisiana.
Example: Let's pretend four friends (Joni, Luccia, Cameron, and Juan) all begin their first year of college in 2020, but each in one of the different institutions listed above. After two years, how much were each of them charged on average for tuition and fees?
Joni after 2 years at a private not-for-profit school:

$41,525.48

Luccia after 2 years at a private for-profit school:

$25,320.20

Cameron after 2 years at a public university:

$14,059.08

Juan after 2 years at Delgado Community College:

$8,158.08
Big difference, right? Keep in mind that these numbers exclude room and board, books, transportation, and other costs.
But did you know that both Joni and Cameron could save money on their college expenses by taking community college while being four-year university students? Many university students take transferable community college courses to cut back on their expenses, and it's perfectly allowed! Talk to your college's academic advisor to see which courses you can take at a community college that will transfer to your institution without any issues. Please note that many courses at private for-profit schools are not transferable.

Continuing Education
Just like community college courses can be transferred toward your university course requirements, continuing education credits may also be a affordable and transfer-friendly option for you. Continuing education caters to working professionals and other adults who wish to take a few courses as a way to support their professional growth, gain skills to change careers, or continue their learning without earning a degree. Both community colleges and universities often offer continuing education courses and don't usually require the same admission process, and at more affordable prices. As a continuing education student, you may be able to take some courses that take care of your degree requirements and then transfer the credits.
Credit for Prior Learning
All of your prior hard work may be able to transform into college credits! Credit for prior learning allows students to earn college credits by providing proof of mastery in a particular subject or skill. This proof can be in the form of high scores on standardized tests like; Advanced Placement, International Baccalaureate, SAT, ACT, industry-based certifications, College-Level Examination Programs (CLEP), among others. This means that recent high school graduates may be able to skip a class or two based on their test scores, this also applies to working adults who have thorough work-based knowledge plus skills in a particular subject. The process to validate these scores varies, so be sure to inquire at your school.
Employer Tuition Assistance
Are you looking to go back to school to advance your current career? Your employer may be willing to financially support your studies as a means of investing in the growth and development of their staff and company. Check with your company's HR to see if tuition assistance is part of your employee benefits package. If this benefit is not explicitly stated as part of your benefits, you don't lose anything by making a case for yourself with your supervisor!
B) Saving on Books & Materials
While the cost of textbooks and materials varies widely based on your major, there are still ways you can make your purchases as affordable as possible.
Use course reserves

. Course reserves are class textbooks that your school library lends to students a few hours at a time and you cannot take home.

Ask your teacher to request a course reserve

. Not all textbooks are available as course reserves at your college library. However, if a teacher requests that your library has a particular book on reserve for students, the library may buy it or remove it from circulation so that it is available. If you want to use books on reserve, be sure to check if they're available much before your semester starts so that your professor may have enough time to request it from your library.

Use library e-books

.

While you may not find a physical copy at your school library, be sure to browse the library catalog for e-books you can use instead.

Use inter-library loans

.

Most libraries have agreements with other libraries in their college system or in the vicinity, so that books can be shared amongst institutions. Make sure that when you browse your library's catalog, your search includes book copies in other locations outside of your particular school.

Use your local library.

Your city's public library may have the books you're searching for, don't forget to check their catalog!

#ProTip
Your professors want you to succeed, but they cannot help you if you don't express your needs. If you are struggling financially and your classroom materials pose a challenge, be sure to be in communicaiton with your teachers so they can help you brainstorm solutions.

Share or borrow from a peer

.

If you and your friend are taking the same course at some point, consider sharing materials. Though sharing textbooks during the same semester/session may be more challenging, it is more feasible when you take it during a different session, or when you share equipment or tools such as clickers or calculators.

Buy used

.

While you cannot buy used access codes, used books are widely available. You can often find more affordable prices when you buy directly from other students at your school. There are often online student communities where you can be in touch with other students who are trying to get rid of their textbooks. We have noticed a growing number of students selling their used textbooks on our Delgado app.

Shop around.

If you decide to purchase your books, browsing several retailers online is always a great first step, and allows you to check prices for both new and used copies. You are likely to find more expensive pricing when purchasing new copies at your school's bookstore. Buying online means shipping timelines, so make sure you order your textbooks as soon as possible.

Check for older editions.

Though books often go through revisions, the difference between one edition and the next is usually not very apparent. However, the pricing usually is very different. Be sure to check with your professor about this. Sometimes they may not mind if you get an older edition to help you save some money.

Rent or loan

. Renting/loaning books is more affordable than buying one. Make sure that you will not need the textbook for more than one term, however, as having to rent again may end up costing you more money than buying. The downside to loaning your textbooks is that you will not be able to get any of the money spent back, while buying (whether used or new) allows you to resell.

Computer/equipment loan

. Many schools allow you to check out equipment such as laptops, projectors, and cables, among others.
C) Saving on Transportation
Student public transportation passes

.

Many colleges and universities have partnerships with a local transportation agency to provide student passes at a reduced rate or no cost. Though some may find public transportation inconvenient, it is a great way to save money on gas and car-related expenses. Using your commute time to get your studying done doesn't hurt either!

Carpooling

.

Consider making carpooling arrangements with friends and classmates. You can also use carpooling apps to make your school commute more affordable.

Check your fees

.

Are you paying for parking fees even though you don't park at school? If you are not parking on campus, make sure you are not accidentally paying for parking passes or other undue fees.

Consolidate your schedule

. Especially if you have a lengthy commute, be sure to reduce your trips to campus as much as possible so that you are saving time and money.
D) Milking "The College Experience"
Part of what makes college a unique—albeit costly experience—is that students have unique access to a plethora of activities, resources, and opportunities to network. But did you know that your college has money to give you so you can make the most out of your student experience? Here are some ways you might be able to get paid to do what you love.
Grants for conferences

. Much like proud parents, colleges want their students to be their pride and joy wherever they go in the academic field. Many colleges have funding for students to attend research conferences and other types of leadership- and academic-based gatherings. A check for your next out-of-state conference may be a short application away!

Paid trips

. Colleges often sponsor enriching cultural and civic activities for their students to enjoy. Trips to outdoor adventures, museums, historical tours, among others, are often free or at a very low cost to students. Take advantage!
Grants for student projects and organizations. Institutions want to see a thriving campus life with well-rounded, multi-faceted students transforming the world. This is why many colleges have grant funding dedicated to student organizations. For example; service learning projects, programming, events, and other activities are examples of what to apply for. In some instances, you may be able to apply as an individual or as a group. You have the idea and people power, they have the money!
Conclusion
Did you know about 1 in every 3 students drop out after their first year of college? Financial hardship is a big hurdle, which is why we offer these money-saving tips.
As a prospective student, know that you are neither the first nor the last to experience most of the challenges you face. There are resources and support programs made especially for you and that you likely pay for through your tuition and/or tax dollars. So take advantage and use all the help you want to get past that finish line!