Delgado, Benson Automotive Partner to Offer Students a Glance of Automotive Industry with the Potential for Career Placement
Delgado, Benson Automotive Partner to Offer Students a Glance of Automotive Industry with the Potential for Career Placement
September 14, 2023
Approximately 50 Delgado Community College Motor Vehicle Technology students participated in a first of its kind open house at Mercedes Benz of Metairie on Tuesday, September 12, hosted by the Benson Automotive Group. The purpose of the event was to introduce students to the inner workings of the business along with potential career placement opportunities with Benson Automotive Group. VIEW PHOTOS.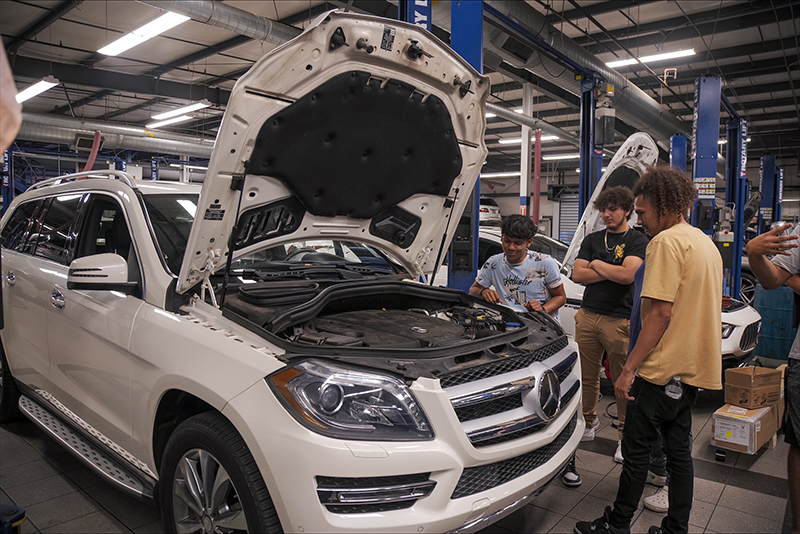 Several students have already scheduled interviews to begin their employment process.
The open house came weeks after Delgado officials welcomed Mrs. Gayle Benson and her senior leadership to campus to tour Delgado's Automotive Technology facilities. Following a round table discussion, tour, and meeting students, Mrs. Benson extended the invitation for students and staff to tour her company's facilities.
Delgado Chancellor Larissa Littleton-Steib said: "We are extremely grateful to Mrs. Benson and her team for opening their doors to our students, not just with the open house event, but by potentially opening doors to a new career for our students following their time at Delgado. We look forward to working together and exploring new ways to partner to benefit our students and our community as a whole."

Jerry Moisant of the Benson Automotive Group said: "We were excited to see such an awesome turnout for this event and the level of interest these students have shown. The demand for technicians is tremendous at all of our locations and our partners at Delgado can assist almost immediately. We look forward to continuing our conversations to turn these prospects into employees very soon."

During the visit, Delgado automotive students were introduced to Benson Automotive Group leadership as well as staff from each Benson Automotive dealership: Mercedes-Benz of New Orleans, Cadillac of New Orleans, and Best Chevrolet. Staff members shared their personal experiences in the industry, its many benefits, and discussed the changing landscape of automotive technology. In addition, students were updated on immediate job opportunities and next steps for exploring potential career paths with the company.

For more information about Delgado's Motor Vehicle Technology program, visit HERE.