Ochsner Center for Nursing and Allied Health
Introducing the Ochsner Center for Nursing and Allied Health at Delgado Community College
Ochsner Health and Delgado Community College have partnered to train the next generation of nurses and allied health professionals, forming the Ochsner Center for Nursing and Allied Health at Delgado Community College.
Ochsner has committed $20 million to expand Delgado's nursing and allied health education, including $10 million toward a new, state-of-the-art building to be constructed on Delgado's City Park Campus. The remaining $10 million will be used to cover full-time tuition for Ochsner employees to pursue degrees and credentials in nursing and allied health programs at Delgado. Additionally, two adjunct faculty members from Ochsner will augment the programs beginning in Fall 2021.
The new building will house the Delgado Charity School of Nursing and most of Delgado's existing programs offered by the Division of Allied Health. This will be the first time these programs will be offered under one roof. The grand opening is expected for Spring Semester, 2023.
Click the image below to download
the full high resolution pdf image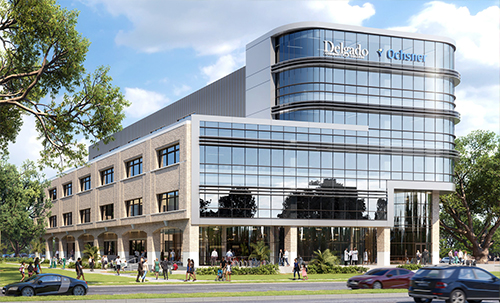 FEATURES AT A GLANCE:
State-of-the-art labs
Modern classrooms
120,000 total square feet
Simulated hospital to ensure facilitated collaboration
Capacity for 1,500 students, including nearly 900 nursing students
$38.6 million total budget
Designed by Manning Architects of New Orleans and Mackey Mitchell Architects of St. Louis
Consolidates Delgado's Charity School of Nursing and most Allied Health Division programs
First new classroom facility at Delgado City Park Campus since opening of 60,000-sq-ft Thames Hall (library) and 15,000-sq-ft Martin Hall (Building 6) in 2015