Medical Laboratory Technician
The Medical Laboratory Technician Program prepares its graduates to work in the medical laboratory performing diagnostic tests to help physicians detect, diagnose, and treat disease. Students must have a strong background in chemistry, biology, and math. Technicians must learn to work with microscopes, computers, and instruments on body fluids, tissues, and cells. Technicians are employed in hospital laboratories, clinics, doctors' offices, blood banks, and research and commercial laboratories.
The program is accredited by the National Accrediting Agency for Clinical Laboratory Sciences, NAACLS, 5600 N. River Road, Suite 720, Rosemont, Ill. 60018, (773) 714-8880.
The following are the MLT Program's 3-year averages of outcome measures for years 2019 - 2021:
Program graduates that pass Board of Certification exam - 100%
Students entering their 2nd year in the program that graduate - 100%
Program graduates placement rate - 100%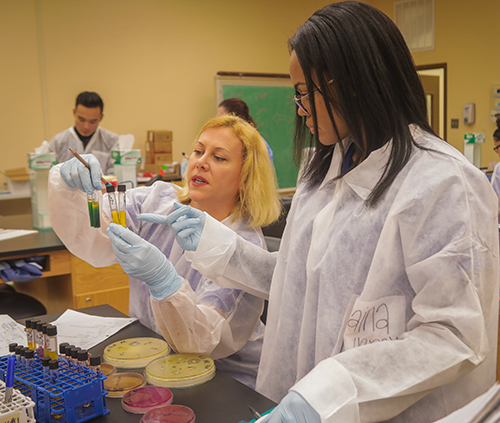 Official Program Description in the College Catalog
Clinical Affiliates
Delgado's phlebotomy program affiliated with the following institutions:
Chabert Medical Center – Houma
University Medical Center of New Orleans – New Orleans
Ochsner Clinic Foundation – Metairie, Kenner, north shore, west bank
St. Bernard Parish Hospital - Chalmette
Children's Hospital – New Orleans
New Orleans East Hospital – New Orleans
St. Tammany Parish Hospital – Covington
West Jefferson Medical Center – Marrero
The Blood Center – New Orleans
Touro Infirmary – New Orleans
Tulane – New Orleans