Evening and Weekend Track
For over 100 years, Delgado has served the greater New Orleans region by providing educational opportunities, workforce development, and career oriented programs. The Delgado Evening & Weekend Track (EWT) continues this long tradition by offering courses outside of regular business hours for working adults who need flexibility.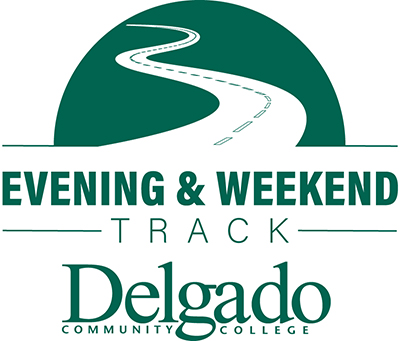 The College designed the EWT with your needs in mind. You can choose a track and your course sequence will be mapped out for you. The course sequence and schedule offer flexible meeting times with working adults like you in mind. You can choose EWT courses that meet face-to-face in the evenings after normal business hours and on Saturday at the City Park and West Bank Campuses, hybrid courses that offer face-to-face paired with online instruction, and fully online courses. Whether you want to begin transitioning your career or earning the college degree you've always dreamed of, EWT is for you.
To get started, you can choose from the following EWT programs:
▶ Track 1: Pre-Nursing/Allied Health Track
This track prepares you to apply for the many Allied Health and Nursing programs offered at Delgado.
▶ Track 2: Louisiana Transfer Degree
This track prepares you to transfer to a state 4-year college. There are two Transfer Degree concentrations as part of EWT: Business and Criminal Justice.
▶ Track 3: Accounting
This track prepares you to enter the workforce at program completion.

In addition to these programs, there are many general education courses available in the evening and weekend for you to choose from.





X
marks your spot!

An X in the course section number indicates an EWT course (example: PSYC 127-1X1).
EWT will help you increase your earning potential, gain a competitive edge, and sharpen your skills.
EWT classes are:
Affordable—Tuition and fees are the same as day classes. Students are also eligible to apply for financial aid.
High Quality—Outstanding faculty of the college, both full-time and part-time, teach the courses in the tracks.
Flexible—Courses are offered after regular working hours, on Saturday, and online.