Understanding Financial Aid
June 23, 2022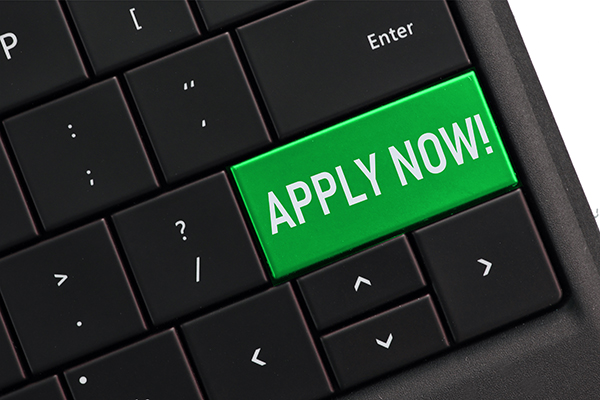 One of the most crucial steps in ensuring that your college dreams are possible and as cost-effective as can be, is to become familiar with the wide range of options that are available to you. At the end of the day, it may not matter what the sticker price on an academic program is, but rather how much of that cost comes out of your pocket. What's a $40,000 annual cost of attendance when you have $40,000 in scholarships and grants? However, that same $40,000 sounds daunting for many if you have only been offered a $4,000 grant.

Let's learn about what is out there and how you can weigh your options to make the best financial decisions surrounding your education!
The Pyramid of College Funding
A helpful way to compartmentalize the various funding sources available to students is to prioritize them from the most desirable to the least desirable. 'The Pyramid of College Funding' below can help you do that.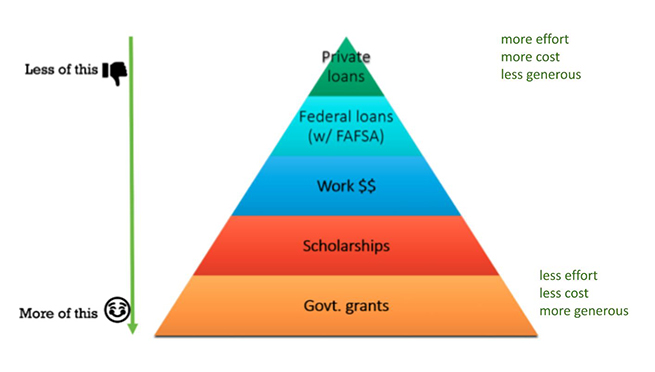 Like the famous food pyramid that helps indicate what nutrient sources people should consume to meet their daily energy/caloric intake, this Pyramid shows what sources you should obtain for the most generous college funding. The bottom of the Pyramid of College Funding shows which funding sources are the most desirable because they are the most generous, require the least amount of effort, and cost you little to no money. The very top of the Pyramid, on the other hand, is the least desirable because they are not generous (i.e. not free), require a lot of effort to pay back, and may cost you a significant amount of money, plus interest. We will review each section of the Pyramid to understand what it is, how it works, and what benefits and downfalls follow each option.
Free Money For School
Who doesn't like free money? It may sound too good to be true, but there's billions of
dollars waiting to be awarded each year in the form of grants or scholarships to college students. Let's learn more about each!
A) Government Grants
Grants are free money that comes from the federal government and/or state governments (either from the state where you reside or where your educational institution is located). Much like scholarships, this is money that you do not have to pay back.
Sounds great, now how do I get them? The Free Application for Federal Student Aid, also known as the FAFSA, is your key to unlocking all of Federal Financial Aid Programs, including grants. This is a form that students must submit every year (annually opens October First) to determine their eligibility for the different types of federal financial aid programs. This form will ask questions about your household size, income, and many other factors that assess your eligibility. This form is free and can be found at fafsa.ed.gov, where you can submit it electronically.
To be eligible to receive Federal Student Aid and submit a FAFSA you must:
Be a citizen or eligible noncitizen of the United States

Have a valid Social Security Number

Have a High School Diploma or a General Education Development (GED) certificate, or have completed homeschooling

Be enrolled in an eligible program as a regular student seeking a degree or certificate
Maintain Satisfactory Academic Progress (SAP)

Not owe a refund on a federal student grant or be in default on a Federal Student Loan

Register (or already be registered) with the Selective Service System (if you are a male and not currently on active duty in the U.S. Armed Forces)

Not have a conviction for the possession or sale of illegal drugs for an offense that occurred while you were receiving Federal Student Aid (such as grants, work-study positions, or loans). If you have such a conviction, you must complete the Student Aid Eligibility Worksheet to determine if you are eligible for aid,partially or fully
Federal
grants
The Pell grant is the most well-known type of Federal Grant, and it is "awarded only to undergraduate students who display exceptional financial need and have not earned a bachelor, graduate, or professional degree" The maximum award slightly varies with each new year, for the 2021-2022 school year it is $6,495. The amount you are eligible to receive will depend on a number of factors, including: how many units you are taking and your Expected Family Contribution (see section III below).
Aside from the Pell grant, there are three other grants that serve very specific populations. They are: the Federal Supplemental Educational Opportunity Grants (FSEOG), the Iraq and Afghanistan Service Grants, and the Teacher Education Assistance for College and Higher Education (TEACH) Grants. Visit https://studentaid.gov/understand-aid/types/grants to learn more about these grants.
State grants
Aside from the grants available through the U.S. Department of Education, there are also grants funded through states for their students. Eligibility for this type of funding varies by state, and may require additional steps aside from filling out the FAFSA. In addition, not being eligible for FAFSA does not necessarily mean that you are not eligible for state financial aid. Check with your state's financial aid department for more information about grants and other forms of state financial aid.
Did you know?
As of 2021, undocuments students are not eligible for federal financial aid, they are eligible for other forms of state aid in various states. Check with your state's financial aid office for more information.
All current and prospective college students should prioritize applying for both federal and state aid if eligible because it does not cost any money to submit. The application can be completed in about an hour, and it can open the door to thousands of dollars in aid that does not need to be repaid (usually in the form of a Pell Grant). In short, a little effort and time investment will go a long way. Every year, tens of thousands of students fail to fill out a FAFSA and miss out on thousands of dollars that could have financed their college education—become part of the awarded statistic!
B) Scholarships
As we saw in Chapter 3, scholarships are another form of free money which supports your higher education expenses. Typically, they involve an application and selection process. Please refer to Chapter 3 to learn all about scholarships and how to access them.
Work
In our Pyramid, work is positioned as a less desirable source of funding than scholarships since it requires much more time, effort and other indirect costs (such as transportation costs or equipment). However, in many situations, it can still be a more preferable source of funding compared to loans, which come with interest and can prove overwhelming over time. Here are a few things we encourage you to keep in mind as you think about how work can help you finance your studies.
Work-study
Many students and their caregivers are not aware of what the federal work-study program entails or how to access it. Work-study is one of the various forms of federal financial aid you can access through FAFSA. It allows you to work part-time and earn money (yes, like a regular job!) while you're completing your studies. This can prove quite convenient as opportunities are usually found right on your campus, and it can save you time and money on commuting expenses. In addition, it is a great way for students to connect with faculty and staff on campus, and truly get to know their institution since they will be part of the "behind the scenes" work.
To be considered for a work-study, students must indicate they are interested in it on their FAFSA application. If approved for work-study, it is then up to the student to seek out employment opportunities at their institution (posts will usually include "work-study" in the job description).
Work
Although old-fashioned work may seem like an obvious source of income not worth mentioning, there are a few things that working students can consider that will make the best out of their school-and-work balancing act.
If the wages offered fit your necessities, seek on-campus employment as they are convenient and tend to be more understanding about student commitments.

Look for employment geared towards students, especially students in your specific field. There are a lot of paid internship and fellowship programs that will only hire undergraduate students. This is a great way to network with professionals in your field and find potential mentors.

Seek employment opportunities that will help you develop the skills you need in your field. You don't need to wait to graduate in order to use the knowledge you're gaining through your studies.

Make the most out of your institution's career center. Perhaps you are content with your current employment, but need support asking for a rise or moving up the ranks. Perhaps you're ready to get out there and change jobs. The career center staff can help you revamp your resume and do a mock interview. They often also carry an updated listing of employment opportunities in your area.
Loans
As you probably already know, loans are money that you borrow for a fee, otherwise known as interest, which snowballs over time until you pay the loan off completely.
Though loans are the least desirable form of funding sources out of this list because of the potential high interest, sometimes loans are a necessity. Students may have unforeseen expenses, or it is the only option for individuals to cover their education costs. Many medical school students who don't have a full scholarship, for instance, find it impossible to save enough money to cover their medical school costs. In other cases, it's just not possible to work full time while being a parent and trying to take a full load of challenging college courses.
No payment scares people more than a student loan. The problem? Too many people are only looking at the statistics and having one of these two reactions --
"I will never go to college no matter what, because I don't want student loan debt."

"I know college is expensive, so I'm just going to go where I want and not worry about it until I graduate."
[!] IMPORTANT
Unfortunately, students often mistake loans for grants/scholarships. That is, students willingly sign off on loan debt because they think they are being offered money with no strings attached. Never sign on a loan without first understanding its terms.
To decide not to go to college because the average student loan debt is over $25,000 is to assume that it will be that much, or more, for yourself. In reality, student loan debt is different for everyone and depends on many factors, including what career you want to go into, your academic record in high school, your financial history and, of course, where you choose to go to school. Visit Chapter 1 if you want to learn more about choosing the right college for you.
Like scholarships, it's helpful to think of each loan type differently:
A) Federal Loans
Federal student loans: these are loans that you can receive as part of your federal financial aid package once you submit your FAFSA. Though you may be offered loans in your package, it is up to you to accept them or to choose the amount you want to accept or decline. There are two types of federal student loans:
Direct Subsidized Loan

:

The U.S. Department of Education pays the interest on a Direct Subsidized Loan while you're in school at least half-time, for the first six months after you leave school (referred to as a grace period*), and during a period of deferment (a postponement of loan payments).
Direct Unsubsidized Loan

:

the borrower is responsible for paying the interest at all times.
As a rule of thumb, you should exhaust your federal student loan options before you seek private loans, as the interest rates and costs will always be higher with a private lender.
B) Private Loans
Private loans (sometimes also referred to as "alternative loans") are monies that you borrow from a private lender, such as a private company that specializes on student loans, a bank, or a credit union. The borrower is always responsible for paying interests. You access these loans by applying for them either online or in-person at their office.
If you find yourself having to consider private loans, it is important to "shop around" by researching and comparing the lending terms from each entity so you make sure you not only get the best deal but thoroughly understand the fine print.
C) Important Notes on Loans
Interest is the amount that you owe the lender on a loan in addition to the amount you initially agreed to take. This is based on a predetermined percentage of the total loan, which varies by the type of loan you're taking out.
While the topic deserves an article all its own, here are some other terms and questions about loans to guide your research before signing on any dotted line.
What is the interest rate on this loan? What does that mean in terms of dollar amount?

How much time do I have to repay my loan?

Can the loan be deferred if I go to graduate school or professional school after graduating?

Loan deferment

means that you can temporarily put off when you start making payments towards your loan.

Aside from interest, are there any other fees I am expected to pay?
Getting a college degree does NOT have to mean taking on major student loan debt (or any debt at all). If you look at your situation thoroughly while comparing and contrasting your options, you are sure to find a very sensible option that best fits your finances and your long-term plans. There's no reason to give up hope about going to college.as long as you are willing to put in the work and preparation, nothing can stop you from long-term success!
Your Financial Aid Reward
The "award letter" is the document where all this financial talk comes together. Once you have been admitted into a higher education institution, your school will likely send you an award letter, which breaks down the different types of financial support you can expect for your education and what is expected to come out of your pocket.
"How do they come up with these numbers?" is a common question students and families ask themselves when they see their award letter. Remember the FAFSA we talked about earlier in the chapter? The federal government and your school uses the information in your FAFSA and the expected cost of your education to calculate your aid package.
An important part of this calculation is your Expected Family Contribution, also known as your EFC. Your EFC is calculated using a formula established by the government based on the information you provide on your FAFSA, and "it is used by your school to calculate how much financial aid you are eligible for at that institution ." "The EFC is not necessarily the amount of money you, or your family will have to pay for college, nor is it the amount of federal student aid you will receive." The Award Letter
Let's dissect its anatomy: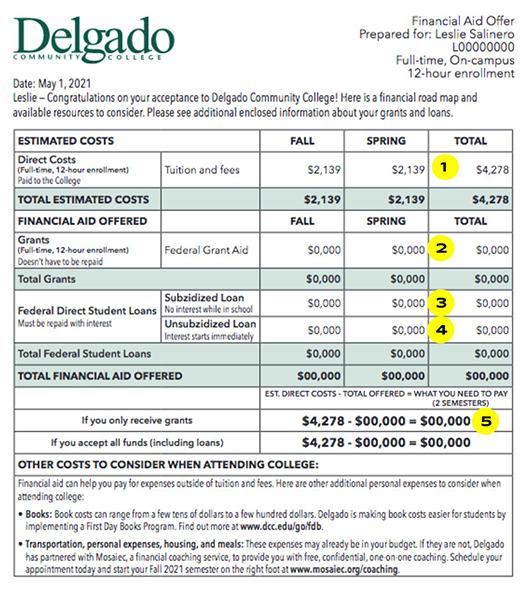 All award letters tend to let you know what your estimated costs for the school year is. Note fine print such as: specific number of units per term, or other included costs will affect the award offer. Because this is a community college award letter, it only includes the cost of tuition and fees, which total $4,278. Other award letters may include room and board, transportation, and food, among other things. Remember - these are rough estimates and

not

a guarantee of the final price. Refer to Chapter 2 for a refresher on how these costs vary per student


The grants shown here

total to $0,

and is the amount of federal or state financial aid this student will receive. Remember that grants do not have to be repaid. However, notice how their enrollment status has fine print that is dependent on their enrollment status. If you become a part-time student, this amount will likely drop. This will also be the area where any other free money, such as scholarships, will be included.


Here is the amount of subsidized loans being offered to you for the school year.


Here is the amount of subsidized loans being offered to you for the school year.



This is a summary of the estimated costs (shown in 1) minus the free money you can receive (shown in 2). This is the amount you can expect to pay out of pocket if you do not accept any loans.
What happens next? After you receive your award letter, you will log into your virtual student portal to accept or reject each item you are being offered. This can be done in any combination. For example, you can accept the grants and reject the loans, or you can accept grants and subsidized loans but reject unsubsidized loans. Similarly, you can accept both grants and all loans. It is all up to you. Always be sure you understand exactly what you're being offered before you decide to accept or reject.
Conclusion
And that just about sums up your options! As you can see, prioritizing funding sources, doing your research, and actively seeking out free money makes a huge difference between graduating with either a small amount of debt, or none, or tens of thousands of dollars in debt. Check out the other chapters in this handbook to ensure you have all the information you need to make your college education as affordable and as stress-free as possible.
TOOLBOX