Delgado Announces Grand Opening Ceremonies at New Avondale Location on August 30
August 29, 2018
Delgado Community College invites the community to attend Grand Opening ribbon-cutting ceremonies for the new Delgado River City Site and Advanced Manufacturing Center in Avondale, LA on Thursday, August 30, at 10 a.m.
Expected to speak at the event are Louisiana Gov. John Bel Edwards, Louisiana Sen. John Alario, Louisiana Community and Technical College System (LCTCS) President Monty Sullivan, LCTCS Board Chairman Stephen Toups, Jefferson Parish Economic Development Commission President & CEO Jerry Bologna and Delgado Community College Chancellor Joan Y. Davis.
There will be a special recognition at the event for the late N.J. "Woody" Ogé, whose efforts over the years were instrumental in bringing the project to fruition. Ogé served as a member of the Delgado Community College Foundation board of directors, and he served on the LCTCS Board of Supervisors, holding the position of chairman of the LCTCS Board. He passed away in April 2018.
"We are pleased to announce the completion and opening of these state-of-the-art educational facilities that have been so highly anticipated by our community. Delgado River City will enable the regional workforce to attain the knowledge and skills needed to participate fully in the economic growth that is transforming the Greater New Orleans region at a rapid pace, and we will assist in that growth by providing a highly skilled workforce for the industries investing in our region," said Delgado Chancellor Joan Y. Davis.
The Delgado River City Site and Advanced Manufacturing Center is a response to the demands of business and industry for a skilled workforce. The facility will create a sustainable long-term solution to critical workforce shortages and provide a pipeline of skilled workers to expand current and future business operations in welding, precision machining, electrical/electronics engineering technology, electronics service technology and industrial maintenance.
The total investment in the project, including state, federal and private funds, is $27.3 million.
The new 85,000 square-foot Delgado location will serve more than 3,000 students in the growing West Bank area of Jefferson Parish near the Huey P. Long Bridge. Course offerings at the new Delgado location for Fall 2018 include:
Aluminum Welding
Industrial Maintenance
Louisiana Transfer Degree (associate to baccalaureate)
Logistics
Millwright
OSHA 10
OSHA 20
Pipefitting
Process Instrumentation and Control (PIC)
Science Lab Technician
Shielded Metal Arc Welding
Small Industrial Electrician
The Delgado River City Site is located near the Huey P. Long Bridge in the Churchill Technology & Business Park next to the Jefferson Parish Economic Development Commission (JEDCO) and Patrick F. Taylor Science and Technology Academy at 709 Churchill Parkway in Avondale. Access is via U.S. 90 and Lapalco Boulevard. The site is approximately 20 minutes from downtown New Orleans.
Prospective students may visit www.dcc.edu for additional information or to apply and register online. Phone (504) 671-5012 for Delgado Admissions or (504) 342-3400 for Delgado River City information.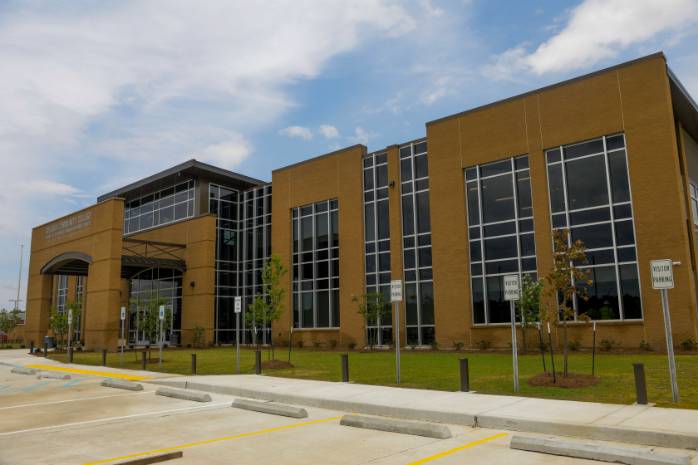 Delgado Community College will celebrate 100 years of service to the New Orleans region in 2021. The oldest and largest community college in Louisiana, Delgado provides instruction online and at seven locations. Fully accredited by the Southern Association of Colleges and Schools, Delgado offers students the most comprehensive array of education and training services available in the 10-parish New Orleans region. Additionally, Delgado has articulation agreements with most of the state's four-year colleges and universities that allow students to smoothly transfer their Delgado credits to bachelor's degree programs. As well as offering degrees and transferable college credits, Delgado provides diplomas and certificates in many professional and technical areas. Workforce development is a priority at Delgado, hence the college's motto: "Education that works!" www.dcc.edu