Delgado Honors 1,418 Graduates at Virtual Commencement on Tuesday, August 4
August 06, 2020
Delgado Community College conferred degrees, diplomas and certificates to 1,418 graduating students on Tuesday, August 4, at 8 a.m. during a virtual Commencement ceremony honoring Spring and Summer graduates.
The ceremony was streamed online at www.dcc.edu and via the Delgado Community College YouTube channel. Immediately after the ceremony concluded, a copy of the credential earned was delivered to each graduate by text and email, with the official document arriving later by mail.
Louisiana Governor John Bel Edwards addressed the graduates during the virtual event. Governor Edwards was sworn in as the 56th Governor of Louisiana in January 2016. In January 2020, he began serving a second four-year term.
Steve Gleason, a former New Orleans Saint and the founder of the Team Gleason Foundation supporting those with ALS and other neuromuscular diseases or injuries, shared a message with the graduates. Gleason received the Congressional Gold Medal in 2019.
Also addressing those viewing the online Commencement ceremony: Dr. Larissa Littleton-Steib, chancellor of Delgado Community College, and Dr. Monty Sullivan, president of the Louisiana Community and Technical College System (LCTCS).
Harold Gaspard, interim vice chancellor for academic affairs and provost at Delgado, presided during the ceremony. He was joined by Elizabeth Shaye Hope, president of the Delgado Faculty Senate, and by the deans of Delgado's seven academic divisions.
Because a traditional Commencement ceremony could not be held at this time, graduates participated in an outdoor Processional at the Delgado City Park Campus in New Orleans. During a reserved time in the morning of Tuesday, August 4, or Wednesday, August 5, each graduate was invited to drive past the Student Life Center to have their name announced, receive their diploma folder and alumni ribbon, and be congratulated by administrators, faculty and staff. Kristopher LaMorte, professor of theater, announced each graduate's name.
Social distancing protocols were strictly maintained during these events.
The virtual Commencement ceremony will remain available on the Delgado YouTube channel. Graduates are asked to share images of themselves on social media using the hashtag #Delgado2020.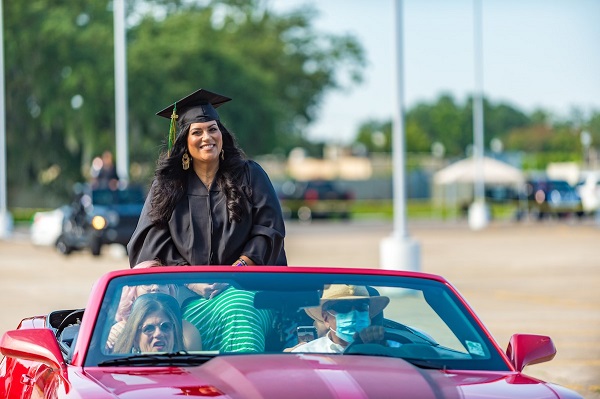 SUMMER 2020
HONORS
Chancellor Honor Graduates (3.8 – 4.0 grade-point average; *denotes perfect 4.0 average): Jackie Abdo, Venus Amaro Cruz, Tyler Cotton, Dane Goodwin, Taylor Kitto, Kirsten LeCompte, Danielle Newsome, Tori Senkowski, Yumi Shedrackantompietri, Walter Weeks.
Honor Graduates (3.5 – 3.79 grade-point average): Jordan Cennett, Stephanie Chiasson, Samantha Damico, Emily DeSalvo, Callie Florane, Kristi Ford, Tyler Galjour, Tara George, Fallan Griffin, Triston Gros, Kaycee Hogan, Savannah Jourdan, Courtney Lemoine, Usma Maher, Jesse Marino, Robyn Murphy, Paul Murphy, Josephine Parr, Michael Raborn, Ariyana Reed, Evelyn Revere, Heidi Rodas, Alyssa Salomon, Paul Scheibe, Jamiya Shine, Dakota Silliman, Nhi Tran, Terrence Turner, Jennifer Webb, Christine Werline, Kayla Young.
ALL GRADUATES
Associate of Applied Science: Venus Amaro Cruz, Andrea Bonano, Daniel Bonilla, Amy Bonvillain, Jordan Cennett, Courtney Chatelain, Raven Coleman, Vaughn Collins, Erin Conway, Tyler Cotton, Adam Courtiade, Samantha Damico, Shelly Davis, Emily DeSalvo, Jennifer Diaz, Cody Doiron, Anthony Dominick, Stacie Doucette, Rachel Ducote, Sylvia Fajardo, Marketta Fletcher, Callie Florane, Kristi Ford, Tyler Galjour, Shandrell Gilbert, Raven Glover, Dane Goodwin, Allaneica Green, Triston Gros, Jenna Guidry, Monique Henderson, Kaycee Hogan, Charlene Hughes, Kendra Joseph, Savannah Jourdan, Taylor Kitto, James Larkin, Jared LeBoeuf, Kirsten LeCompte, Courtney Lemoine, Noelle Lorio, Susan Lowery, Henry Mai, Aunchelle McKinney, Amaya Mitchell, Robyn Murphy, Paul Murphy, Tiffany Peek, Mason Piediscalzo, Janesa Pinkins, Gail Ponce, Michael Raborn, Roshni Rawat, Evelyn Revere, Kiri Richard, Heidi Rodas, Heidi Ruiz, Alyssa Salomon, Paul Scheibe, Tori Senkowski, Cynthia Shephard, Dominic Signorelli, Dakota Silliman, Lacy Singley, Bruce Smith, Ronchetta Stelly, Jessica Teague, Nhi Tran, Miles Trenticosta, Linda Volley, Kennedi Walden, Lashae' Walker, Jennifer Webb, Christine Werline, Angela Wheatley, Jacob Williams, Ishan Williams, Harrison Wool, Kayla Young.
Associate of Arts: Dangel Arrington, Alexison Farria, Tara George, Payton Jones, Sara Rapalo, Ariyana Reed, Angie Rodriguez, Derrick Toussaint, Reina Victor.
Associate of General Studies: Michelle Barthelemy, Cyle Clayton, Kayla Engeron, Valerie Grayson, Fallan Griffin, Michael Haynes, Trenell Howard, Kierre Humphrey, Antonette Johnson, Breeon Johnson, Noelle Jones, Rusca Kennedy, Yeslem Lahah, Brennan Lambert, Gingerlynn Lanza, Denika Lawson, Jesse Marino, Carolyn Marks, Doran Nieto, Kyra Nixon, Frank Norris, Shirvonne Norton, Josephine Parr, Sandra Paz, Kynedi Poullard, Heather Ramirez, Korsel Schouest, Jasmine Sears, Alexandra Simpson, Krystle Smith, Tiffany Thomas, Terrence Turner, Walter Weeks, Sara Whitecotton.
Associate of Science: Jackie Abdo, Adegoke Ariwajoye, Kiarra Barr, Stephanie Chiasson, Serena Grant, Cambray Hall, Raelynn Harvey, Usma Maher, Davida Melle, Danielle Newsome, Jose Pineda, Roch Prejean, Byron Reed, Yumi Shedrackantompietri, Jamiya Shine, Kristen Snider, Diego Soria, Vanessa Thedford, Ashley Vujnovich, EllaMae Williams.
Career and Technical Certificate: Asya Aleem, Kristin Allchin, Felicia Allen, Thaar Almozani, Shana Andres, Kayla Aparicio, Emily Artus, Hipa Ayyad, Liany Benedith, John Bernard, Kevielle Bernard, Paige Bolline, Lanell Boyd, Kyle Bush, Kimberly Christensen, Nicole Creshon, Jennifer Crocker, Edilsa Cruz, Alexandra Diez, Shantell Fernandez, Jeana Griffin, Sadie Hall, Maigin Hightower, Miranda Humphrey, Haaris Hussain, Chelsea Jacques, Argelia Jarquin, Jeffrey Jenkins, Stephen Knop, Amy Kussmann, Valerie Lago, Terrell Lamb, Delerie Lee, Brandi Lynch, Elbrisha Mathieu, Javona Minor, Kenneth Mitchell, Garyell Morris, Tri Nguyen, Grecia Osorio, Karina Osorio, Yolanda Pines, Nouredine Rabia, Gabrielle Randazzo, Joseph Riviere, Michelle Robichaux, Lillie Russ, Savannah Seals, Aisha Siddick, Stacie Simms, Tremaine Stewart, Shahanaz Sumi, Verta Turner, Jacqueiline Washington, Herlena Williams.
Certificate of Applied Science: Kentril Burkett, Stacey Folse, Thomas Foret, Shanzania Francis, Shaiquandra Jones, Sally Le, Brandi Mixon, Tina Savarese, Sheree Scott, Sonia Simpson, Vantia Thomas, Breanna Todaro.
Certificate of General Studies: Kawani Adams, Kellie Adams, Stephanie Alvarado, Shasteen Anderson, Carrie Armstrong, Devon Arroyo-Gross, Kerstin Augillard, Dezna Austrie, Michelle Banks, Britnee Barber, Sara Braendel, Erica Brown, Dashia Brown, Olivia Burns, Arenell Campbell, Marquita Canatella, Bethanie Cassard, Brendan Caye, Marianna Charles, Cory Cook, Kirstan Craig, Chloe Dennison, Emily Deveer, Morgan Drummond, Valentine Dube, Georgie Dupont, Nagham Elbizri, Rebecca Elien, Edmund Ervin, Jesse Esquivel, Antonina Fichert, Kiara Florence, Kci Florent, Silvia Flores, Catherine Forbes, Kaysha Francis, Garian Gibson, Jessica Gonzalez, Victor Gonzalez, Kaycee Gorrondona, Kyron Greer, Lionel Gutierrez, Tamea Hadley, Usama Haider, Antoine Henderson, Christina Henry-Morgan, Andie Herbert, Desmond Hilaire, Zachary Hinson, Trinity Holmes, Win Htein, Shardae Hunter, Quan Huynh, Ismail Ismail, Brionne Jackson, Sky-Louisea Jackson, Stephany Jackson, Daijanae Jacob, Dylan Johnson, Tameka Jones, Brittany Juneau, Shaina Kaye, Nina Kulick, John Larkin, David Lewis, Courtnie Lewis, Desiree Livas, Alexander Loicano, Annalice Lopes, Nicholas Lorio, Charlene Manton, Barryan Markham, Nathan Marks, De'ja Martin, Tyrisha Martin, Adela Montes, Umer Mukhtar, Amy Nesbit, Madison Newberry, Kristy Nguyen, Justin Nicholas, Shirvonne Norton, Caitlan Oeberst, Fabiola Padilla, Lynell Parker, Christopher Plummer, Shauntre'al Preatto, Ariyana Reed, Jeremy Reyes, Katelyn Ries, LaRonda Robinson, Angelo Robinson, Angie Rodriguez, George Rohr, Keioka Royal, Roschelle Rumley, Hannah Sabecki, Tanya Sanders, Sarah Seymour, Ariele Sheaffer, Geomisha Short, Jenna Slocum, Garrett Smith, Jaziane Smith, Chelsea Sproull, Brittany Stanford, Shonna Tate, Jeannette Taylor, Imari Thomas, Auryana Thompson, Steven Tilelli, Briana Toussaint, Germaine Townsend, Jeffery Tychina, Matthew Valerio, Kayla Watkins, Laria Williams, EllaMae Williams, Elan Williams, Tyler Wilson, Tanya Windmon.
Certificate of Technical Studies: Crystal Adams, Thaar Almozani, Carrie Armstrong, Joshua Ball, William Barber, Jeris Clark, Jonathan Clark, David Clary, Lawrence Collins, Ben Darden, Meleah Draughter, Lawrence Duckworth, Sheena Edwards, Brandi Frank, Kristan Gray, Russheka Gremillion, Shondalon Guillot, Sadie Hall, Sonia Hawkins, Sydney Hellwig, Iriel Henry, Catherine Hunt, Mitchell Jordan, Miranda Lambert, Delerie Lee, Katherine Mascari, Lalannie Matthews, Daniel Mills, April Milton, Tri Nguyen, Manuel Nieto, Trineishia Noble, Trineishia Noble, Caitlin Pierce, Alexis Quin, Courtney Randazzo, Stacie Simms, Jermaine Taylor, Lucy Tejeda, Keiley Theodore, Justin Tizzard, Michael Tran, Terrence Wingard, Robin Yeager.
Post-Associate Certificate: Brittney Caywood, Kayla Duplechin, Glynnis Holloman, Neldon Lewis, Tania Osorto Andrade, Kaylee Puckett.
Technical Diploma: Wardell Beal.
SPRING 2020
HONORS
Chancellor Honor Graduates (3.8 – 4.0 grade-point average; *denote perfect 4.0 average): Brandon Alexis, Amanda Alker, *Lynn Barbier, Madison Berard, Allyson Blanchard, Brandon Borne, *Jonathan Bowden, Terri Brown, Bailey Castille, Christy Cole, Anthony Daniel III, Nicholas Dix, Jason Dufrene, Jacob Fury, George Gabb, Erick Hernandez, Desha Hubbard, Stephanie Huffman, Adam Jones, *Orachat Kumbungton, *Nari Lee, Varese Lindsay, Marilyn Long, Marc Lyons, Dawnielle Perez, Wayne Rish, Brandilynn Robichaux, Patricia Sabine, Brianna Schaefer, *Megan Schofield, Amanda Sims, Jordan Talbot, Brandy Tamberella, *Lenny Trotter, Harrison Vicknair, Gretchen Zalkind.
Honor Graduates (3.5 – 3.79 grade-point average): Saeideh Aghighi, Mason Alphonso, Molika Anderson, Hailee Anglado, Morgan Ball, Renoteyell Banks, Gassan Benedetto, Reni Black, Chelsea Boudoin, Jerri Callahan, Kendall Candebat, Tina Carter, Emily Combe, Brandy Eastwood, Alise Elliott, Alise Elliott, Kassandra Everhart, Rachal Fabre, Rachael Frowner, Laquana Gardner, Smriti Giri, Vladimir Golubev, Nicole Grant, Fallan Griffin, James Holbrook, Jessica Hurtado, Roger Irula, Selena James, Austin Johnson, Jason Johnson, Echo Jones, Phuong Khong, Abigail Laborde, Jobe Lee, Carolyn Legard, Ronald Lemoine, Rebekah Malbrough, Eric Mark, Mahalie Martinez, Mallory McAvoy, Rachel Mendoza, Luis Morales De Leon, Amy Moseley, Mary Ellen Mura, Raymond Muriithi, Don Nguyen, Huyen Nguyen, Mitchell Nguyen, Philip Nodurft, Keith Osborne, Jacqueline Poole, Nouredine Rabia, Brad Randazzo, Madeleine Reidy, Gregory Robbins, Lizeth Rodriguez, Taylor Smith, Mary Strode, Trina Teixeira, Laurin Toski, Phu Tran, John Tsai, Brandon Vega-Martinez, Griffin Vicknair, Zachary Virga, T'Juan Walker, Jordan Weinberger, Scarlett Williams, Nicole Winford, Kim Woolley.
ALL GRADUATES
Associate of Applied Science: Saeideh Aghighi, Mason Alphonso, Giselle Alvarenga, Velda Argeyo, Chelita Ayers, Morgan Ball, Lynn Barbier, Cristian Barrios, Sabrina Barrois, Tayla Beaulieu, Gassan Benedetto, Octavia Black, Reni Black, Amari Blackwell, Allyson Blanchard, Jessica Blanchard, Brandon Borne, Peyton Borne, Alex Boudloche, Chelsea Boudoin, Kennon Bradford, Adam Brockhaus, Latrecia Broussard, Jenae' Brown, Terri Brown, Trayonne Brown, Jaleesa Bullock, Kia Butler, Anon Cage, Jerri Callahan, Deranesha Campbell, Sinoe Cardoza, Kemyion Carey, Ryelind Cargo, Brianna Caro, Joeann Carter, Bailey Castille, Felicia Ceaser, Brandi Charbonnet, Hannah Chevalier, Ora Clay, Tyreka Cochran, Christy Cole, Robert Connor, Rhonda Cordes, Kordell Cunningham, Anthony Daniel III, Kayla Davis, Darrinell Dedeaux, Nicholas Dix, Kolby Dogans, Dylan Domino, Gwendolyn Douglas, Rhonda Duffel, Jason Dufrene, Rene Dumas, Ashlee Dunkin, Brandy Eastwood, Yashika Edwards, Brandon Encalade, Shandrell Etheridge, Rachal Fabre, Maegan Findley, Jude Finton, Torry Fletcher, George Gabb, Charisse Galatas, Kaitlyn Galland, Juana Garcia, Vicky Garcia Esteban, Laquana Gardner, Gerolyn Garrison, Smriti Giri, Robert Griffin, Rainey Haggerty, Erin Hampton, Mason Harrell, Brock Hartman, Bethany Hebert, Ida Henry, Sanea Henry, Erick Hernandez, Shelby Hoerner, Richard Hood, Christopher Hoselle, Shelitha Howard, Desha Hubbard, Elise Humphrey, Tania Hunter, Jarius Hurst, Roger Irula, Stephanie James, Alisha Johnson, Austin Johnson, Brandy Johnson, Jason Johnson, Senta Johnson, Thomas Johnson, Vada Johnson, Adam Jones, Courtney Kaigler, Juana Kaywood, Phuong Khong, Briante Kimble, Reynaldo King, Suzanne Knapp, Abigail Laborde, Jobe Lee, Nari Lee, Carolyn Legard, Ashley Lewis, Jasmine Lewis, Kewanya Lewis-Pierre, Varese Lindsay, Dominick Lizardo, Marilyn Long, Sierra Lyles, Marc Lyons, Jennifer Macaluso, Rebekah Malbrough, Shauvey Manson, Joseph Marange, Eric Mark, Angela Marsalis, Rhy'al Mazique, Matthew McFarland, Deon McKenzie, Esteban Mendez, Rachel Mendoza, Patricia Mezlini, Luis Morales De Leon, Amy Moseley, Don Nguyen, Jenifer Nguyen, Mitchell Nguyen, Tan Nguyen, Tena Nguyen, Thien Nguyen, Keith Osborne, Amanda Peek, Dawnielle Perez, Maglin Perkins, Macy Perret, Hung Pham, Salvador Piedy, Karol Pineda Rodriguez, Vanja Popovic, Nouredine Rabia, Reginald Reynolds, Wayne Rish, Brandilynn Robichaux, Allison Rodriguez, Lizeth Rodriguez, Claire Rudolph, Devon Sanders, Yigit Saygin, Brianna Schaefer, Megan Schofield, Camelia Scott, Mary Jane Seigler, Anastasia Sims, Semaj Smith, Katrice Snead, Joseph Spadaro, Kristen Speaks, Nicholas Stark, Savannah Stein, Mary Strode, Danielle Struewing, Jordan Talbot, Brandy Tamberella, Trina Teixeira, Ticham Thomas, Jose Torres, Natalie Vale, April Veal, Brandon Vega-Martinez, Zachary Virga, Rachel Volpi, Katie Vrettos, Dionne White, Cornell Williams, Geremy Williams, Amber Wingerter, Kim Woolley, Gretchen Zalkind.
Associate of Arts: Cedraneka Alexander, Aungelle Anderson, Molika Anderson, Alexis Arnona, Jerinisha Augillard, Karla Ayala, Aliyah Baham, Madison Berard, Erica Bonvillain, Stanley Brown, Courtney Dabon, Veronique Desalle, Jessica Deville, Alise Elliott, Emily Gibbs, Fallan Griffin, Emily Guerra, Esperanza Gutierrez, Aubrey Hansen, Dominique Harris, David Hill, James Holbrook, Elizabeth Hoselle, Jessica Hurtado, Selena James, Echo Jones, Brandon Le, Stephanie Logue, Mahalie Martinez, Cindy Moody, Julinda Parlow, Telitha Richard, Tina Ruppert, Catherine Schackai, Amanda Sims, LaChee Singleton, Glynis Smith, Ryan Sullivan, T'Juan Walker, Jasmin Williams, Jessica Williams, Scarlett Williams, Veronica Williams-Ogunnaike, Shiu Kei Wong.
Associate of General Studies: Brandon Alexis, Qween Amor, Brittany Andry, Verline Augustine, Renoteyell Banks, Matthew Barthelemy, Phylis Batiste, Breona Berry, Haley Blanchard, JNia Bob, Colin Bonine, Jonathan Bowden, Rodney Boyd, Shaniqua Brown, Danika Bryant, Karina Bustillo Palma, Lakia Butler, Stephanie Calero, Kendall Candebat, Marqueta Carter, Tina Carter, Tatanisha Cline, Gena Collor, Amber Cooke, Connor Cosse, Terineaka Crawford, Jessica Curlin, Mia Ekola, Nadia England, Kassandra Everhart, Connor Feustle, Alyssa Flores, Veronica Flores, Chico Franklin, Rachael Frowner, Jacob Fury, Maria Garcia, Tiffany Gardner, Nicole Grant, Ashley Guzman, Neal Hamilton, Kelly Hardy, Hailee Harris, Shayla Harrison, Leroner Hawk, Lauren Hebbler, Ranesha Hickman, Sang Ho, Jabria Hooker, Dionne Hudson, India James, Aramis Jasmine, Wayneisha Jefferson, Dylan Jennings, Destanie Johnson, Donica Johnson, Lisa Johnson, Mark Johnston, Tedril Jones, Angeliki Kleamenakis, Stephen Klein, Markeshia Knott, Orachat Kumbungton, Winston Labranch, Alyssa LaFrance, Holly Landry, Angelina Lanza, Mia Le, Aileen Lora, Catherine Loze, Taylor Luper, Le'Kecia Magee, Steve Marquez, Jeileen Martinez, Mafer Matos Mendez, LaMarian May, Mallory McAvoy, Angela McCleney, April McQueen, Ana Mendieta, Terriel Miller, Kris Mitchell, Aaron Moses, Louis Neff, Huyen Nguyen, Faith Nixon, Cesar Normand, Kelly Nugent, Vanessa Ortega, Lindsey Peters, Angela Phan, Jacqueline Poole, Olga Qaryouti, Amalia Quin, Madeline Quinlivan, Bushra Qureshi, Kourtney Richard, Candy Ringgold, Tashonda Robinson, Jeffrey Russo, Christopher Ryan, Michelle Sabathia, Patricia Sabine, Chiron Scott, Tierra Shawl, Lindsey Skinner, Dawand Smith, Dillon Smith, Jordan Smith, Shalisa Smith, Taylor Smith, Latasha Stevenson, Kala Thomas, Vankia Thomas, Jasmine Thompson, Ana Tijerino, Jenny Tommeraas, Rosalie Torres, Laurin Toski, Phu Tran, Shantale Travis, John Trosclair, Aspen Troxclair, Griffin Vicknair, Harrison Vicknair, Amy Waguespack, Megan Wardsworth, Jordan Weinberger, Ariel Wells, Zabryn Williams, Nicole Winford, Zane Zeppuhar.
Associate of Science: Lacey Adams, Leila Aghakasiri, Carlos Alegria-Bernhard, Amanda Alker, Lindsay Allen-Ortega, Hailee Anglado, Hannah Bailey, Keyalah Banks-McCaskill, Nancy Barreto, Chad Bickmann, Candi Blandin, Danielle Blanson, Jaimee Bonvillain, Jenae Bordelon, Lavenya Bourgeois, Audrey Briscoe, Lydia Brockhoeft, Tara Brown, Kayla Bruce, Collin Buckley, Carla Castillo, Brianna Chatmon, Kayleigh Chiasson, Gabrielle Childress, Amber Christoffer, Dina Collazo, Emily Combe, Brett Combel, Brett Cook, Ryeisha Cosey, Lacey Coulon, Melanie Curole, Chancelor Decay, Suzanne Dixon, Brittany Dodge, James Dodson, Meredith Dubos, Amanda Dupuy, Kaytlinn Durr, Alise Elliott, Joshua Eukel, Skylar Ferguson, Daniel Fiechtner, Kashanda Foley, Shandell Forest, Courtney Forsyth, Chelsea Fortmayer, Ashean Freeman, Paige Fricke, Vladimir Golubev, Joy Guste, Malik Haley, Shakera Hayes, Indira Henderson, Tina Herda, Olivia Hillard, Taylor Hoke, Alicia Hoover, Larriesha Houston, Maria Hovinga, Angela Howell, Stephanie Huffman, Joy Hunter, Ashlyn Jessie, Michelle Johnson, Qutrelia Johnson, Sherry Johnson, Dana Judkins, Tremelia Kelly, Jenifer Knight, Brittany Kuhn, Diamond Lampton, Jeremiah Lange, Leianne Laroche, Erika Ledo, Charmari Lee, Ronald Lemoine, Brittany Licciardi, Sarah Lin, Montrice Luckett, Lam Luu, Lauren Mansfield, Julianna Maricelli, Brandon Martin, Denise Matlock, Brid McDonnell, Skye McDowell, Gabrielle McElveen, Amber Mcgrath, Caysa Mejia, Seweryn Mekarski, Reyuna Monts, Alicia Morales Mendez, Maegann Morrison, Mary Ellen Mura, Raymond Muriithi, Philip Nodurft, Kelsey Opheim, Stuart Oubre, Faith Pajeaud, Seth Palmer,
Julie Paniagua, Elaine Pearce, Ashlai Peters, Stacie Petrolia, Eunice Pierre, Roselyn Poulter, Brad Randazzo, Andrew Reaves, Madeleine Reidy, Emily Richardson, Gregory Robbins, Andrea Roberts, Gabriela Rodriguez, Ashleigh Romain, Joseph Roundtree, Naquita Salmon, Kyle Schexnayder, Ikea Shanks, Kourtney Shelby, Queen Sheppard, Toni Simmons, John Spooner, Angela Stephens, Natasha Stevenson, Doreion Stewart, Akira Takada, Jessica Thompson, Casey Todesco, Ashley Trosclair, Lenny Trotter, John Tsai, Christina Uhle, Ruth Valley, Hang Van, Sandra Vappie, Jade Velasquez, Melinda Verdin, Taryan Verrett, Zoe Vittur, Holli Weir, Trevor Williams, Victor Wong, Maria Zubareva.
Career and Technical Certificate: Crystal Adams, Zhane Allen, Alisha Amaya, Kerrie Angelo, Verline Augustine, Malana Baker, Mason Barney, Frank Bergeron, Cheryl Bernas, Amari Blackwell, Donald Breaud, Michelle Briscoe, Tina Burkholder, Anthony Burwinkel, Christine Butler, Garrett Butterfield, Erica Buuck, Cameron Calais, Deranesha Campbell, Shavonda Caples, Alaina Cassie, Tina Causey, Tyana Chatham-McCaskill, Devyn Clark, Dione Clark, Lawrence Collins, Nicole Costanza, Shawanda Custard, Valerie Daussin, Charla deBram, Michelle DeVore, Kizzy Dillon, Nicholas Dix, Hoang Do, Brittany Ducre, Jason Dufrene, Rene Dumas, Stanley Ellis, Taylor Fleming, Kristan Gray, Briyon Green, Theone Greenlee, Kenneth Hagans, Mya Hamilton, Richelle Hamilton, Derek Harbiston, April Hayes, Alexandria Heath, Sarah Hulliger, Miranda Humphrey, Da'Juan Ingraham, Roger Irula, Tiffany Jimenez, Austin Johnson, Ryan Jones, Bria Keelen, Andrew Knecht, Surhiwong Knight, Terrell Lamb, James Larkin, Jameshia Laurant, Denise Lawrence, Jobe Lee, Jobe Lee, Christian Legier, Dashaun Lyons, Christine Majoria, John Marion, Alex Martin, Katherine Mascari, Quentin McGaha, Briana Mendez, Marcos Mendoza, John Meyers, Christopher Miller, April Milton, Simone Morrison, Lashante Mutley, Benjamin Neidballa, James Nethery, Huan Nguyen, Jonathan Nguyen, Quoc Nguyen, Tuan Nguyen, Doran Nieto, Manuel Nieto, Gina Niz, Chelsi Norah, Jose' Ortiz-Gonzalez, Michelle Pate, Amanda Peek, Kirk Peltier, Walter Pennington, Ahmad Perkins-Mccullum, Kevin Pettigrew, Melanie Pham, Pearlie Phillips, Christian Pichon, Cameron Porter, Mary Portie, Casey Ransaw, Christopher Rayle, Christopher Rideaux, Lohany Rivera, Bridget Roberts, Wilson Rodriguez, Kimberly Ruano, Darolyn Russell, Terneisha Sanders-Sparks, Ethan Sicard, Megan Simmons, Lisa Sinclair, Melissa Sindik, James Smith, Edward St Pierre, Keshia Stevenson, Nicolas Suazo, Dominique Thompson, Rayshuan Varnado, Ratron Walker, Sean Watson, Blaine Western, Alexander White, Aisha Wiley, Kendra Williams, Aundrea Wilson, Zachary Winfield, Khadijah Woods, Robin Yeager.
Certificate of General Studies: Marie Abba, Allison Aguiluz, Carlos Alegria-Bernhard, Cedraneka Alexander, Jessica Alford, Tiffany Allen, Cierra Alvarez, Aungelle Anderson, Gabrielle Anderson, Maegen Babb, Stephanie Banegas, Matthew Barthelemy, Kia Batiste, Jaime Bordelon, Karl Boudreaux, Sydney Bowers, Aushant'a Boyd, Cinnamon Boyd, Rodney Boyd, E-li'-sha Brent, Lacey Brock, Firmin Brown, Isha Brown, Janaea Brown, Karl Burke III, Cristina Buttler, Jayda Buxton, Jarred Caffey, Stephanie Calero, Shea Carrillo, Martika Carter, Caitlin Cassisa, Grant Chachere, Beth Champagne, Ranaa Cheema, Adrian Chimal, Jenise Clarks, Aliska Claude, Nicole Cohee, Michael Colbert, David Cole, Rayonne Coleman, Solomon Colley, Lewis Colmenares, Brett Combel, Claisha Coston, Mariah Crawford-Edge, Amanda Crespo Gonzalez, Dory Curren, Tien Dang, Gabriella Daniels, Evan Davenport, Carolina Davila, Rebecca Deist, Nicole Delise, Jasmine Denney, Kaia Dezara, Trang Dinh, Duy Do, Ashley Dominguez, Luisa Dominguez, Giao Dong, Kelley Don-Jordon, Andrene Downie, Lashon Drummond, Amanda Dubos, Reece Dugue, Kodi Dunn, Stephen Dupont, Terriell Edwards, Mia Ekola, Emily Espana Bardales, Allison Espinal, Toneka Esteves, Joshua Fairchild, Mona Farhud, Connor Feustle, Autumn Fields, Carlos Figueroa, Tonya Fisher, Lashonda Fletcher, Kennedi Franklin, Kaitlyn Frederick, Latonya Fruge, Emma Fuller, Jacob Fury, Griselda Gallardo, Ashley Garcia, Karla Garcia, Clijahnae Gatlin, Tara George, Serena Grant, Timothy Grant Jr, Valerie Grayson, Alexis Green, Zofia Groppi, Shareace Guidry, Tache' Hankton, Aubrey Hansen, Donnell Harrison, Raelynn Harvey, Leroner Hawk, Indira Henderson, Carlisha Hendricks, Brianne Herndon, Gabriela Herrera, Michelle Heselton, Haley Hollingsworth, Katelin Holmes, Adria Hopkins, Meghan Hunger, Carlee Hurley, Ashton Hymel, Bryan Jacobs, Aramis Jasmine, Lioneshia Jenkins, Arthur Johnson, Erinisha Johnson, Kayla Kessling, Stephen Klein, Sabrina Lafleur, Alexis Larkins, Jolanca LaSalle, Gia Le, Samuel LeBlanc, Wallace Lee, Emily Leflet, Vanessa Leland, Long Lo, Shontia Lucien-Norman, Taylor Luper, Erica Ly, Usma Maher, Tyler Malin, Dwayne Mallet II, Keith Mannina, Katlin Martin, Karly Masson, Denise Matlock, Mallory McAvoy, Rachael McCain, Kayla McGee, Karli Mcglone, Cullen McKinley, John Meyer, Arielle Miner, Tyran Minor, Maurice Mitchell, Jessica Molina, Whitney Morris, Lacey Muller, Raymond Muriithi, Anh Nguyen, Brandon Nguyen, Hang Nguyen, Hanson Nguyen, Hoang Dat Nguyen, Jennifer Nguyen, Tam Nguyen, Thao Ngoc Nguyen, Thi Nguyen, Trung Nguyen, Vi Nguyen, Doran Nieto, Jade Norton, Edwin Novondo, Laran Padua, Ayzar Palacios, Nicholas Palacios, Amy Parker, Tiffany Peek, Taylor Peoples, Trinh Pham, Truong Pham, Angela Phan, Jose Pineda, Darren Plaisance, Jacqueline Poole, Kynedi Poullard, Kaliah Powell, Donald Purvis, Gina Quincy, Madeline Quinlivan, Cindy Raiford, Nick Randazzo, Robin Reed, Brandie Reeves, Coby Remble, Francis Repass, Paij'e Rijo, Chadric Robertson, Tamiah Robinson, Alexis Rodriguez, Katie Rogner, Katie Rose, Haylie Ruiz, Austin Ryan, Brynn Ryan, Suhaib Saleh, Michael Sanchez, Teresina Sandino-Reyes, Kim Sandras, Thomas Schroeder, Dixie Schwartz, Deshannon Scott, Haleigh Seifert, Ahmed Shalabi, Kayla Shields, Chelethea Smith, Dawand Smith, Tiana Smith, Christa Snider, Sara St Pierre, Amanda Starks, Katherine Steward, Ti'Yan Stockman, Andrea Talley, Kayla Tate, Stacy Taylor, Cameron Terry, Brock Theriot, Kyran Theyard, Breanna Thomas, Star Thomas, Laurin Toski, Loc Tran, Caleb Trevino, Judith Trevino-Rodriguez, Greta Trosclair, Colby Ulrich, Loany Urquia, Lavonna Varnado, Elena Varnaeva, Reina Victor, Jill Vincent, Darian Vu, Thuy Vu, Ernesha Wallace, Megan Wardsworth, Monique Washington, Ellen Weaver, Brittany West, John White, Doneeka Williams, James Williams, Jessica Williams, Shaquantae Williams, Shelita Williams, Stacy Williams, Saquetta Williamson, Cadesha Winters, Aubrey Yeung, Syeeda Zaidi, Magon Zeledon, Sean Zemke, Jie Zhu.
Certificate of Technical Studies: Anthony Allemand, Shandrieka Allen, Zhane Allen, Arthur Anderson, Brittany Andry, Kerrie Angelo, Karen Antunez Molina, Jerry Ard, Lacy Bailey, Reginell Baker, Shakeeva Barnes, Orelia Batiste, Meaghan Bautista, Ben Bearden, Immanuel Beck, Ryan Becker, Johnny Bell, Frank Bergeron, Cheryl Bernas, Nikolus Berry, Ousmane Biteye, Amari Blackwell, Lindsay Boihem, Wesley Bonnet-Mendez, Brandon Borne, Peyton Borne, Jason Boudreaux, Kennon Bradford, Antoinette Brown, Joshua Bruce, Tina Burkholder, Brenda Burton, Stanley Bush, Amber Butler, Erica Buuck, Latora Byrd, Joel Canales, Kendall Candebat, Rudy Cano, Demoy Carridice, Devin Castillo, Josue Cerros, Shaun Champagne, Holly Chapman, Jason Charles, Waiyee Cheung, Daunte Clark, Dwight Clark, Freddie Clark, Ashaad Clayton, Je'Ron Collins, Chanel Cooper, Melinda Cooper, Dominico Cornella, Charles Daunoy, Valerie Daussin, Holly Davis, Olanden Davis, Ryan Dellucky, Nicholas Dix, Rashad Dotson, Jove Dufrene, Arielle Dumas, Ashlee Dunkin, Byron Edmonson, Derek Edmonston, Nadia England, Linda Fasola, Dominic Favalora, Amari Foy, Louis Francis, Renata Fronza Saraceni, John Garcia, Benjamin Gauthier, Markea Gilbert, Spencer Gilbert, Emely Gonzalez, Briyon Green, Theone Greenlee, Russheka Gremillion, Noah Guey, Dayzier Guss, Jason Hallford, Fadi Hamed, Robert Harbiston, Devante Harrell, Ira Hays, Chakia Hebron, Ida Henry, Iriel Henry, Jewell Holmes, Alonzo Hubert, Patrick Humphrey, Roger Irula, Kate James, James Jarusook, Alicia Johns, Jared Johnson, Timothy Johnston, Maraja Jones, Phuong Khong, Briante Kimble, Kenneth Kinler, Ashley Lafrance, Antonio Lambert, Christopher Lanza, Christopher Lanza, James Larkin, Jameshia Laurant, Angela LeBoeuf, Jobe Lee, Tory Lewis, Chase Lieteau, Keith Magee, Le'Kecia Magee, Christine Majoria, Ingris Marin, Jayda Martin, Sherry Martin, Marquita Mcgary, Trevor Mcintosh, Michelle Mercadel, My Merrell, Cyril Merren, Tokumba Miller, Daniel Mills, Keionne Molizone, Latice Moody, Nickolas Moore, Angel Morales, Malorie Mowers, Destiny Nelson, James Nethery, Huan Nguyen, Jonathan Nguyen, Peter Nguyen, Quoc Nguyen, Tuan Nguyen, Chelsi Norah, Hakira Palmer, Devin Parkman, Kirk Peltier, Troy Pendergraft, Mason Peres, Joshua Petes, Kevin Pettigrew, Karol Pineda Rodriguez, Jeremy Pizzolato, Jacqueline Poole, Cameron Porter, Kenneth Powell, Alejandra Ramirez Galindo, Dylan Ramsak, Casey Ransaw, Manda Ray, Wayne Rish, Bridget Roberts, Rockell Robinson, Danny Robson, Gabriel Rosendo, Claire Rudolph, Erick Sagastume, Michaelle Saint Jean, David Sam, Jerson Sanchez, Dylan Schmidt, Devin Scretchings, Chelsea Self, Christian Sermeno, Tyler Shields, Ryan Simmons, Melissa Sindik, Christopher Singleton, Shaquinda Solomon, Rebecca Spano, Joseph Spires, Cy St.Lucia, Michael Stewart, Robert Stone, Galintha Thomas, Marsha Thomas, Parker Thombs, Cecil Thurmond, Carlos Tinoco, Julio Tovar, Cheryl Treaudo, Wayne Treaudo, Calib Vidrine, Jordan Wallace, Keenan Ward, Annette Washington, Christopher Watkins, Priscilla Weary, Seth West, Blaine Western, Joseph Wheeler, Davant Whitehead, Angel Williams, Daves Williams, Shaun Williams, Anthony Zanca.
Post-Associate Certificate: Chelsea Asencio, Diana Lucero, Ariel Pitre, Kendrick Thomas, Nicholas Toups.
Technical Diploma: William Addison, Brittany Babin, Deneille Bealer, Taylor Campbell, Kendrell Cole, Trenean Doty, Ella Faasch, Brooke Gardner, Rokaya Gharib, Jacqueline Harvey, Jordan Holmes, Jalisa Jackson, Jessyka Jackson, Shiquida Jackson, Rachel Johnson, Lillian Kanda, Tamika Lewis, Emely Lora, Abigale Markwica, Martha Moore, Jessica Mutah, Kevin Nguyen, Evence Nkouessi, Juan Pena, Glenn Penton, Dung Pham, Crystalyn Prater, Micah Riley, Shelley Salvant, Emily Schaff, Alexandria Simmons, Angelique Stamps, Asia Thompson, Jessica Thompson, Lynette Thornton, Irving Tucker, Ernesha Wallace.
About Delgado Community College
Delgado Community College will celebrate 100 years of service to the New Orleans region in 2021. The oldest and largest community college in Louisiana, Delgado provides instruction online and at seven locations. Fully accredited by the Southern Association of Colleges and Schools Commission on Colleges, Delgado offers students the most comprehensive array of education and training services available in the 10-parish New Orleans region. Additionally, Delgado has articulation agreements with most of the state's four-year colleges and universities that allow students to smoothly transfer their Delgado credits to bachelor's degree programs. As well as offering degrees and transferable college credits, Delgado provides diplomas and certificates in many professional and technical areas. Workforce development is a priority at Delgado, hence the college's well-known motto: "Education That Works." www.dcc.edu