Occupational Therapy Assistant
Program Description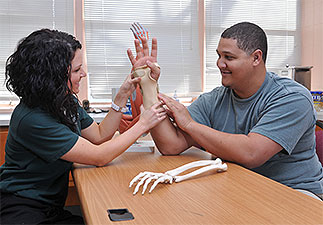 Occupational Therapy Assistants help persons who are impaired due to injury or illness, emotional disorder, intellectual challenges, developmental disabilities, or the aging process by implementing programs to improve functional abilities in all life skills. They also work in the area of wellness to promote optimal lifestyle performance. They work under supervision of Registered Occupational Therapists.
Students will be eligible to take the national certification examination administered by the National Board for Certification in Occupational Therapy (NBCOT), which is required to practice in the field. The program is four full-time daytime semesters.
For more information about the program, including course sequence and course descriptions, please visit the program's official catalog page
Accreditation
The Occupational Therapy Assistant Program is accredited by the Accreditation Council for Occupational Therapy Education (ACOTE) of the American Occupational Therapy Association (AOTA), located at 6116 Executive Boulevard Suite 200, North Bethesda, MD 20852-4929. ACOTE's telephone number, C/O AOTA, is (301) 652-6611.
Mission Statement
The mission of the Delgado Occupational Therapy Assistant Program is to provide students an opportunity to earn an associate degree that allows for immediate employment in the field. Both the didactic and the practical education are provided that, upon completion of the program, will allow the graduate to perform as an entry-level COTA in a variety of clinical environments. Graduates of the OTA Program will have the information and resources that prepare them to succeed on the certification examination provided by NBCOT, which will allow them to be eligible to practice in the profession. Skills learned in the OTA Program provide graduates with the competence to serve the community in a profession that promotes and enhances occupations for a variety of challenged individuals.
Licensing Information

The licensing boards of Louisiana and other states may refuse to grant licensure to persons who have been convicted of a felony. Conviction of a felony may also prohibit sitting for the certification examination administered by National Board for Certification in Occupational Therapy (NBCOT).
For more information, visit the NBCOT site.
View program results from the National Board for Certification in Occupational Therapy (NBCOT).
Program Cost
View the estimated cost for the Occupational Therapy Assistant Program. Additional information can be found in the College Catalog
Program Outcomes
Aggregate from graduating classes 2020-2022
| Graduation Year | Students Entering/Graduating | Graduation Rate |
| --- | --- | --- |
| 2022 | 20/17 | 85% |
| 2021 | 20/17 | 85% |
| 2020 | 20/20 | 100% |
| Total | 83/77 | 93% |