Polysomnographic Technology (Sleep Technology)
The Associate of Applied Science (A.A.S.) Program in Polysomnographic Technology at Delgado trains students to use information technology equipment and direct observation of clients in sleep laboratories to document diagnostic data to treat sleep disorders.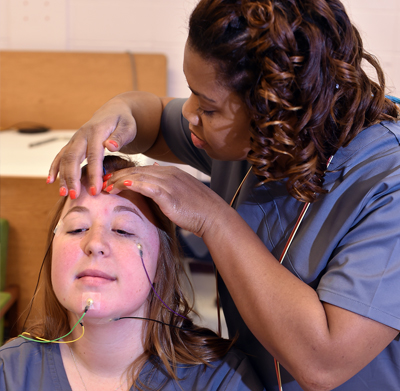 PROGRAM TRAINING
Perform and assess sleep studies and document normal and abnormal activity

Generally

work at night (some daytime opportunities)

Collect sleep data for physician review and patient diagnosis
PROGRAM REQUIREMENTS
High school diploma/GED, pre-requisite courses, and 2.0 GPA required

Students must be able to study, attend class, and perform sleep diagnostic procedures with patients at night
The Polysomnographic Technology Program at Delgado Community College will be a limited enrollment Associate of Applied Science program. Students are expected to possess the following prerequisite competencies prior to entry in the program; eligibility for college English and Mathematics; Computer Literacy; Medical Terminology; Basic Cardiac Life Support; and General Biology.
See Official Program Description in the College Catalog
See Frequently Asked Questions.
POSITIVE PLACEMENT OUTCOMES FOR POLYSOMNOGRAPHIC TECHNOLOGY PROGRAM FOR 2019
CURRENT OUTCOME DATA AT 82%
The Polysomnography Program is accredited by the Commission on Accreditation of Allied Health Education Programs (CAAHEP) by recommendation of the Committee on Accreditation for Polysomnographic Technologist Education (CoA PSG)
CAAHEP
9355-113th St. N, #7709
Seminole, FL 33775
Phone: 727-210-2350
Fax: 727-210-2354
Email: mail@caahep.org
CoA PSG
1711 Frank Ave.
New Bern, NC 28560
Phone: 252-626-3238
Email: office@coapsg.org