Polysomnographic Technology
The Associate of Applied Science (A.A.S.) Program in Polysomnographic Technology at Delgado trains students to use information technology equipment and direct observation of clients in sleep laboratories to document diagnostic data to treat sleep disorders.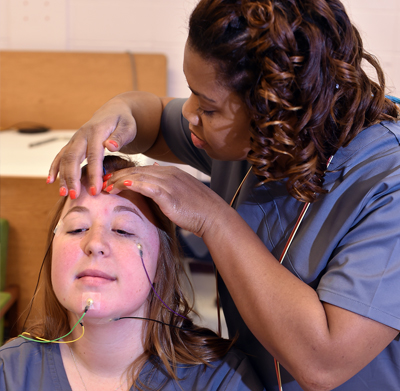 PROGRAM TRAINING
How to use information technology / equipment
How to direct patient procedures / observations
How to document data to treat sleep disorders such as sleep apnea, insomnia, narcolepsy, and more
PROGRAM REQUIREMENTS
High school diploma/GED, pre-requisite courses, and 2.0 GPA required
Students must be able to study, attend class, and perform sleep diagnostic procedures with patients at night
The Polysomnographic Technology Program at Delgado Community College will be a limited enrollment Associate of Applied Science program. Students are expected to possess the following prerequisite competencies prior to entry in the program; eligibility for college English and Mathematics; Computer Literacy; Medical Terminology; Basic Cardiac Life Support; and General Biology.
See Official Program Description in the College Catalog