Chancellor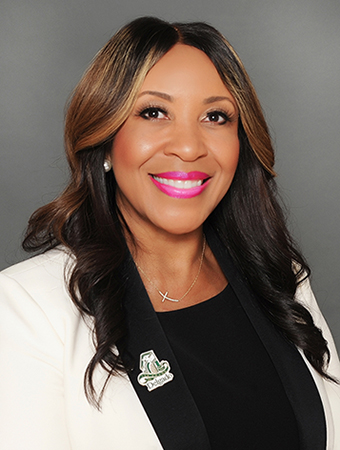 Larissa Littleton-Steib, Ph.D.
Dr. Larissa Littleton Steib has been a leader at Delgado Community College for more than twenty years—with several years away to serve as Chancellor of Baton Rouge Community College. Since returning to Delgado as Chancellor in 2019, Dr. Steib is working to build and enhance relationships with regional business, industry, and government organizations. She is making certain that the curriculum at Delgado, on both the academic and workforce development sides of the college, is aligned properly with regional economic development and workforce needs. Partnerships expanding under Dr. Steib's leadership include top regional employers such as Ochsner Health, LCMC Health, Chevron, DXC Technology, Amazon, and Hilton Hotels. She is also raising Delgado's profile across the spectrum of activity in the New Orleans region as a top-quality post-secondary educational resource with tremendous economic impact—calculated in 2021 to be more than $588 million annually in directly related economic activity.
The performance of Delgado Community College under Dr. Steib's leadership has resulted in her being named by Biz New Orleans magazine as Executive of the Year in Education for 2022. The magazine also identified her as one of the 500 most influential, involved, and inspiring business leaders in the New Orleans area for 2022. She was selected in 2021 as one of the 20 most effective leaders in the regional education sector by the publication New Orleans CityBusiness.
Dr. Steib is a native of Louisiana and earned a doctorate in Urban Higher Education from Jackson State University and her bachelor's and master's degrees from Xavier University of Louisiana. She is married to Kyle Steib Sr. and they have three children, Kyle, Blake, and Victoria.