Delgado Celebrates Advanced Technology Center Groundbreaking at West Bank Campus
May 31, 2019
This morning, Delgado Interim Chancellor William Wainwright was joined by Governor John Bel Edwards, State Senator Troy Carter, and educational, industry, government and economic development officials for a groundbreaking ceremony to establish a new $13 million Advanced Technology Center at the Delgado Community College West Bank Campus in Algiers.
The Delgado West Bank Campus Advanced Technology Center represents a significant expansion of the 15-acre footprint of the West Bank Campus. The center will house all academic STEM programs including classrooms, laboratories and faculty offices. It will also include an open common space and meeting spaces.
The 37,000-square-foot facility is slated to open in May 2021 at the corner of Shirley Drive and Constellation Street, on land acquired by Delgado from the Algiers Development District (ADD). The ADD is redeveloping Federal City, the site of the former Navy base in Algiers that is adjacent to the Delgado campus.
The Delgado West Bank Campus is located at 2600 Gen. Meyer Avenue, and its frontage on the busy commercial and residential thoroughfare extends from Pace Boulevard to Shirley Drive.
"The oldest and largest community college in Louisiana is getting larger," said Governor Edwards in his remarks at this morning's event.
"Louisiana's oldest and largest community college is getting larger and I'm excited about that," said Governor Edwards in his remarks to the approximately 125 people in attendance. "The reason we're doing this is that prosperity and opportunity more than ever, are inextricably linked to education and training. If we have the talent pipeline in place, the talent will come. The jobs will be created, and we will have people who can realize their dreams right here in Louisiana, right here in Algiers."
"The Algiers Development District Board and people of Algiers are excited to welcome the expansion of Delgado's presence in Algiers," said the Development District chair, Senator Troy Carter. "This significant investment represents great news for New Orleans' West Bank and is a testament to the future economic promise and vitality of the area. We look forward to continuing our important collaboration with Delgado and are grateful to Governor Edwards and the legislature for this visionary investment."
"The importance of public higher education and workforce training to residents of Algiers and the West Bank has long been demonstrated by their support for the Delgado West Bank Campus," said Chancellor Wainwright. "With this new facility, Delgado builds upon a nearly one-hundred-year-old legacy of improving lives and changing futures. For more than half of those many years, Delgado West Bank has thrived in service to its community, the city of New Orleans, and the region. We thank all whose vision and hard work have brought this campus to the point where it will now become an ever greater force for prosperity and advancement."
With a current enrollment of 2,500, the Delgado West Bank Campus has served Algiers and the West Bank for six decades as the local public college. The Delgado campus, which opened in 1967, was until last year the only public institution of higher learning west of the Mississippi River in the New Orleans area. In August 2018, Delgado Community College opened its new River City Site and Advanced Manufacturing Center in Avondale.
Delgado intends to increase the number of West Bank students enrolled—and enhance its partnerships with key industries--by fostering innovation, education and technology in an academic environment at the West Bank Campus Advanced Technology Center.
The investment in the Delgado West Bank Campus Advanced Technology Center will give the school the capacity to teach 2,000 more students. Specifically, the center will focus on the healthcare, petrochemical, digital media and transportation logistics industries.
The expansion is designed to create a workforce pipeline for the West Bank's industrial needs, and to ensure access to higher education. Announcing funding for the project last year, Edwards said it was important for people to get an education "in close proximity" to where they live.
Delgado, the largest community college in Louisiana with an enrollment of 20,394, has seven locations in the greater New Orleans region. There are currently 3,138 Delgado students from households in West Bank communities including Orleans and Jefferson parishes--844 Delgado students live in Algiers, which is part of the City of New Orleans and Orleans Parish.
Delgado Community College and the ADD previously collaborated to acquire and open the West Bank Campus Student Life Center, which opened in September 2015. That 10,800-square-foot building was the former chapel at the Navy base. A $2 million investment by Delgado transformed it into a thriving center for student activities and community events.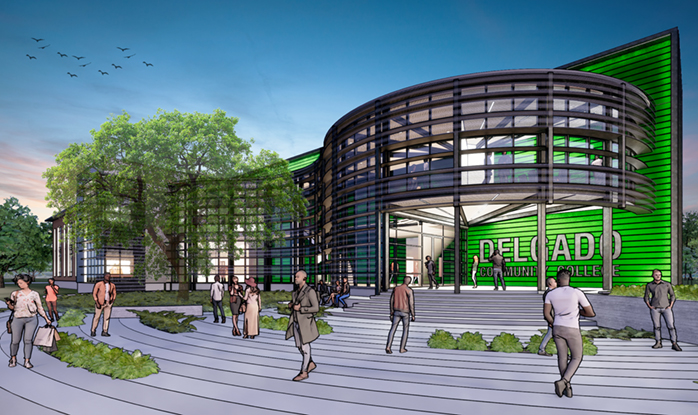 Delgado Community College will celebrate 100 years of service to the New Orleans region in 2021. The oldest and largest community college in Louisiana, Delgado provides instruction online and at seven locations. Fully accredited by the Southern Association of Colleges and Schools, Delgado offers students the most comprehensive array of education and training services available in the 10-parish New Orleans region. Additionally, Delgado has articulation agreements with most of the state's four-year colleges and universities that allow students to transfer their Delgado credits to bachelor's degree programs. As well as offering degrees and transferable college credits, Delgado provides diplomas and certificates in many professional and technical areas. Workforce development is a priority at Delgado, hence the college's well-known motto: "Education that works!" www.dcc.edu