River City Site and Advanced Manufacturing Center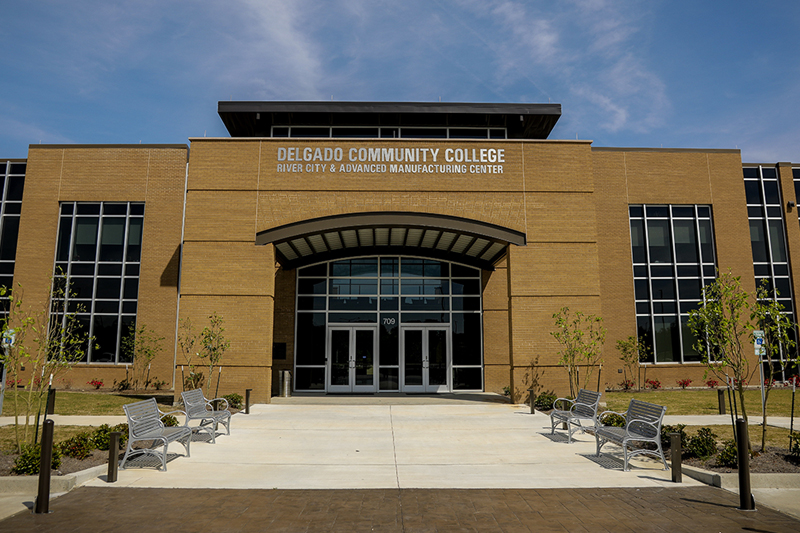 The Delgado River City Site and Advanced Manufacturing Center is located in Avondale, Louisiana. It opened for classes on August 18, 2018. The site was funded with state ACT 360 funds, the U.S. Navy and private matches.
This location boasts state of the art classroom technology, industry-like training equipment, small class sizes and excellent faculty and staff. Students have the option in enrolling in credit courses and programs as well as accelerated Workforce Development courses and programs.
Contact Information
For additional information please call 504-342-3400 or email us at rivercityinfo@dcc.edu.
Programs Offered
The Delgado River City and Advanced Manufacturing Center offers many general education courses and Associate degrees in:
Instrumentation and Control
Science Laboratory Technician (Biology and Chemistry)
Louisiana Transfer Degree
and Certificates in:
Industrial Maintenance (coming soon)
Logistics
Pipefitting
Precision Machining
Small Industrial Electrical
Welding
Workforce Development and accelerated training in:
Marine Diesel
Mechtronics
NCCER Core
OSHA 10
OSHA 30
Pipefitting
Small Equipment Operator
Structural Fitting
Hispanic Welding
Welding
Welding Upgrade
Location
The facility is located next to the Jefferson Parish Economic Development Commission (JEDCO) and Patrick F. Taylor Science and Technology Academy at 709 Churchill Parkway in Avondale, Louisiana.