Dialysis Technician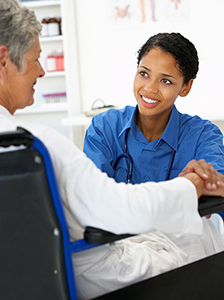 Dialysis technicians administer hemodialysis treatments to patients with renal failure under the supervision of a nurse or physician. The dialysis technician is involved in prescription interpretation, dialysite preparation, extracorporeal circuit and dialyzser set up and maintenance, equipment monitoring, patient preparation, taking vital signs, documentation and communication, venipuncture and local anesthesia administration, emergency intervention, safety and sanitation, and professional standards and ethics. The goal of the program is to provide graduates with the skills necessary for entry level into health services employment as renal/dialysis technicians.
Curriculum
| | | |
| --- | --- | --- |
| HESC 130 | Introduction to Dialysis | 3 credits |
| HESC 131 | Dialysis Procedures | 3 credits |
| HESC 132 | Dialysis Clinical Practicum | 5 credits |

Official Program Description in the Course Catalog


What are the career opportunities for a Dialysis Technician?
The employment outlook for dialysis technicians is good through the next decade. The field is growing steadily and there is a need for qualified technicians. Dialysis technicians are employed in hospitals or clinics as well as private dialysis labs or clinics.