Radiologic Technology Admissions
Delgado Community College is an open admissions college; however, acceptance into the Radiologic Technology Program is by selection. The Admissions Committee for the RADT Program reviews and evaluates each application on an impartial basis. Meeting the minimum requirements does not guarantee admission into the program.

Students wishing to apply for admission to the RADT Program must submit a completed Online RADT application to the Division of Allied Health no later than February 15. Students are chosen on the basis of courses completed by the end of the fall semester prior to application deadline.
Applicants who are eligible for admission to the RADT program must meet the following criteria:
Possess a high school diploma or equivalent.
Achieve a cumulative grade point average of at least 2.0 in all college courses.
Successful completion of prerequisite courses. Prerequisite courses: BIOL 251, BIOL 253, ENGL 101 and MATH 120
Be able to meet the program's technical standards.
NOTE: Science courses over 10 years old may require repetition. Check with the Allied Health Admissions Advisor.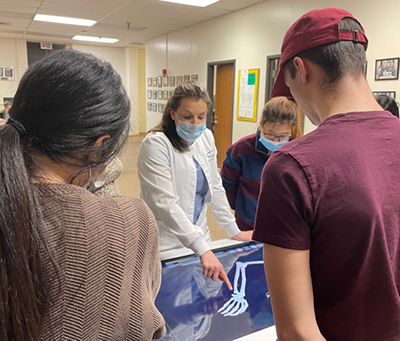 To find out if courses you have taken will transfer to Delgado speak with the Allied Health Advisor about having transcripts evaluated. For information, call (504) 671-6203.

Applications for the RADT program are available online each year. Applicants must contact the Allied Health Admissions Office for academic advising and assistance with the program's application process. Students can submit a RADT application between November 1st and February 15th by visiting the Radiologic Technology web page Admissions section.

Please note that your mandatory clinical training is conditional predicated on a negative drug screen and criminal background check. Information on drug screening and background check procedures will be presented at the program's orientation for those students accepted to the program. In addition to each semester's tuition and fees, there are additional expenses.

These expenses include: books, Castlebranch, Trajecsys, TB test, vaccines & titers, physician's physical, medical insurance, uniforms, travel to clinical education settings, CPR certification, national certification examination fee, state licensure fee, professional organization fees and graduation fee.

NOTE: You are strongly advised to meet with an Allied Health Admissions Advisor to review your transcripts at least one semester prior to applying to the program.
Application Information
Observation in a Radiology department is optional but strongly recommended. Observation experience, paid or voluntary, should be documented by the appropriate Radiologic Technology Observation Form. Print Observation Form
Official Program Description in the Course Catalog