Respiratory Care Technology
Respiratory Care is practiced under the direction and supervision of a licensed physician involving the diagnosis, testing, treatment, monitoring, and care of persons with deficiencies and abnormalities of the cardiopulmonary system. Respiratory care practitioners work in general hospital inpatient care; adult, pediatric, or neonatal intensive care units; emergency rooms; out-patient, home care, or rehabilitation facilities; special-procedure areas; and diagnostic laboratories. Graduates are eligible to take the advanced level national credentialing exams to become Registered Respiratory Therapists.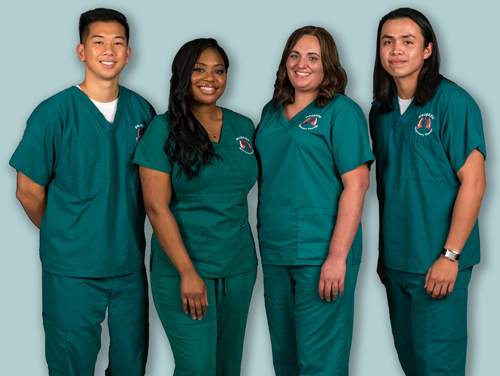 Note: Program applicants should be aware that visible tattoos and body piercings (other than earrings) are not permitted in many clinical affiliates. Upon acceptance into a program and the commencement of clinical rotations, students may be required to cover visible tattoos and remove visible piercings.
Respiratory care practitioners work in many different health care environments which may include:
general hospital in-patient care

adult, pediatric or neonatal intensive care units

emergency rooms

out-patient, home care or rehabilitation facilities

special-procedure areas

diagnostic laboratories
Accreditation and Program Strengths
The Respiratory Care Technology Program at Delgado Community College is accredited by the Commission on Accreditation for Respiratory Care (www.coarc.com). The college's CoARC number is 200204. CoARC recently assessed the program and found the following strengths:
Advisory Board is engaged and supportive of the program.
Diverse and supportive clinical affiliations provide excellent clinical educational experiences for students.
Supportive Administration that provides funding for professional development and equipment needs as requested.
The faculty is cohesive, student-centered and committed to student success.
Paid adjunct clinical instructors are dedicated to the delivery of quality clinical education.
Long term commitment of Medical Director who is interested in student success.
Helpful Links
Official Program Description in the Course Catalog
Commission on Accreditation for Respiratory Care
Respiratory Care Program Technical Standards
Job Responsibilities
Under the direct supervision of a physician:
Administer all forms of respiratory therapy treatment modalities
Maintain mechanical ventilator support systems and apply appropriate weaning techniques
Perform arterial blood gas sample acquisition, analysis and interpretation of results
Calibrate monitoring and diagnostic equipment
Perform routine airway care
Perform patient assessments and develop care plans
Make rational clinical decisions based on patient responses
Communicate effectively with other health care personnel
Monitor, set up and maintain oxygen delivery systems
Interpret results of other diagnostic data: chest x-rays, labs, ECG, etc
Perform ventilation and cardiac compressions during CPR
Maintain departmental and patient records, accurately document all treatments, procedures, and related patient assessments
Recognize indications and contraindications of all therapeutic modalities, Respiratory medications, and diagnostic procedures
Make recommendations of appropriate therapy as indicated
Aid in safe transportation of patient and equipment
Provides instruction to patients, family members about therapy and equipment used
Rehabilitation of the patient with chronic respiratory disease
Assists with both diagnostic and therapeutic bronchoscopy
Performs quality control and basic maintenance of diagnostic equipment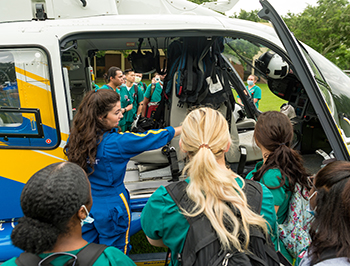 Physical Requirements
Be able to work long periods of time while standing; bend, squat, reach above shoulders, twist, turn, kneel.
Move large equipment on rollers, push, pull 50lbs.
Turn and lift patients of varying weights
Use stairs to report to emergencies rapidly
Hear alarms and direct verbal communication in patient care areas which often have high noise level
See alarms, dials, digital and graphical displays in occasional decreased lighting
Communicate the English language clearly to other personnel and patients
Manual dexterity and mobility
Work Environment/Hours
8 to 12 hour shifts occurring during the day, evening, night, weekends and holidays
One 30 minute lunch/dinner break
One or two 15 minute breaks, depending on the shift
Typically a full time equivalent CRT/RRT will work 2080 hours/year and receive the benefits granted by the employing institution, which usually include: vacation time, sick leave, and health insurance.
Work Hazards
Back injuries from lifting and moving patient/equipment
Exposure to a wide range of air borne and blood and body fluid borne pathogens
Respiratory Care Technology Program Goals
Teach an attitude of personal student ownership of their education.
Teach an attitude of excellence, teamwork, and professionalism.
Teach the difference between fundamentals (principles) and techniques (style).
Teach patient education fundamentals wherever applicable.
Teach preventative health principles wherever applicable.
Teach a respect for all patients, as well as their families.
Teach technical skills with the latest technology and techniques of modern medical standards and practices.
Teach evidence-based practice following the AARC's Clinical Practice Guidelines.
Prepare students for the NBRC Written and Clinical Simulation Credentialing Registry Exams.
Encourage the development of critical thinking skills.
Prepare graduates with demonstrated competence in the cognitive (knowledge), psychomotor (skills), and affective (behavior) learning domains of respiratory care practice as preformed by registered respiratory therapists (RRTs).
Encourage and expect participation and support through membership in state (LSRC) and national (AARC) professional organizations.
Respiratory Care Technology Outcomes
CoARC accredits respiratory therapy education programs in the United States. To achieve this end, it utilizes an 'outcomes based' process. Programmatic outcomes are performance indicators that reflect the extent to which the educational goals of the program are achieved and by which program effectiveness is documented.
| Graduation Year | 3-Year Average (2020-2022) |
| --- | --- |
| Number of graduates | 14 |
| Number of students enrolled | 17 |
| Retention (based on enrollment date, not graduation date) | 80% |
| Positive job placement | 95% |
| *TMC exam - passing high cut score | 98% |
| RRT credential success (all graduates) | 74% |
*As of January 1, 2015, the Therapist Multiple-Choice (TMC) Examination and the updated Clinical Simulation Examinations are the professional credentialing examinations taken by graduates of CoARC accredited programs to earn the Certified Respiratory Therapist (CRT) credential and Registered Respiratory Therapist (RRT) credential. These exams are National Board for Respiratory Care (NBRC) and have been in use since 1/1/2015. Prior to 2015, there were separate exams for the CRT and written portion of the RRT. The CRT and/or RRT credentials are used as the basis for licensure in Louisiana, as well as 48 other states that regulate the practice of RT.
The RRT credentialing Examinations are designed to objectively measure essential knowledge, shills, and abilities required of advanced respiratory therapist. The TMC determines eligibility for the Clinical Simulation Examination. There are two established cut scores for the TMC Examination.
If a candidate achieves the lower cut score, they earn the CRT credential
If a candidate achieves the higher cut score, they earn the CRT credential and become eligible for the Clinical Simulation Examination
Individuals who attempt and pass the TMC Examination at the higher cur score and attempt and pass the Clinical Simulation Examination are awarded the RRT credential.
The RRT credential must be earned within three years of completing the respiratory therapy program. The NBRC does provide a means to regaining eligibility to earn the RRT credential.
Information on student/graduate outcomes for our program and all other programs accredited by the Commission on Accreditation for Respiratory Care (CoARC) may be found on CoARC's website.
Supplemental Information
Persons accepted into the Respiratory Care Technology Programs will be required to:
Be 18 years of age or older
Pass a physician's physical examination prior to admission, once accepted to the program;
Initiate the Hepatitis B Vaccine series prior to admission, once accepted to the program;
Be tested for tuberculosis prior to admission, once accepted to the program;
Be certified in CPR for Healthcare Providers once accepted to program;
Be willing to work with sick and disabled persons, be accurate, thorough, congenial, flexible and ambitious, be dependable, responsible, reliable, and abide by rules, regulations and schedules;
Be able to provide own transportation to clinical sites;
Meet the technical standards of the Respiratory Care profession which are available for review in the Allied Health Office, as well as on the Program website.
Be responsible for their own medical insurance coverage
Pass a nationwide criminal back ground check and urine drug screen
Receive the flu vaccine and prove immunity to Measles, Mumps, Rubella and Vaircella.
Receive the Covid vaccine or approved exemption.
Costs
Respiratory Care Technology students pay the same fee for each term as other credit students enrolled in the college.
Tuition & Fees - $2039.52
In addition to these charges, the following fees are also assessed:
$10 assessed as the Student Government Association fee

$15 Student Life Center fee

$75 access fee

This does not include Lab Fees if applicable for classes scheduled.
*Subject to changes
Other costs include uniforms, clinical supplies, health requirements, background check, drug test, textbooks, and seminars which are approximately $800.00 over the duration of each year of the program. Various financial assistance options are available to students. Information on scholarships, loans and grants may be obtained through the college's Office of Financial Aid.