Veterinary Technology A.A.S.
Program Overview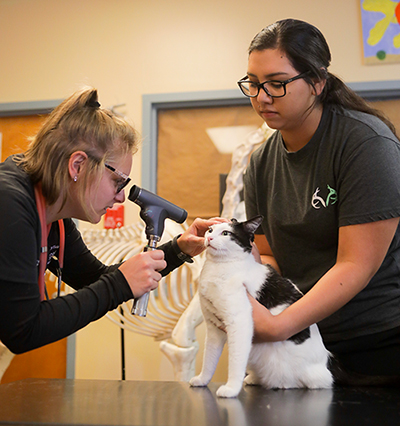 The Veterinary Technology Program is a full time, five semester Associate of Applied Science degree program. The Delgado program admits one class per year, beginning in the fall semester. The program is a limited enrollment program. The deadline for completed applications to the program every year is May 1. The Admissions Committee for the program reviews and evaluates each application on an impartial basis. Meeting the minimum requirements does not guarantee admission into the program. To be eligible to apply to the program, students must meet the following criteria:
Have a love for animals and a willingness to work hard.
Possess a high school diploma or equivalent.
Successfully complete all prerequisite general education courses. (See below.)
Earn a cumulative college grade point average (GPA) of at least 2.0. It is recommended that students maintain a 2.3-2.5 GPA in order to be competitive with other applicants.
Be able to meet program's technical standards.
Complete 50 hours of observation at a veterinary hospital
Be able to pass a background, drug screening, and rabies pre-exposure vaccination prior to acceptance into the program.


Helpful Links
Official Program Description in the College Catalog
Mission Statement
The mission statement of the Veterinary Technology Program is to develop veterinary technicians that have both excellent technical skills as well as excellent people skills. Because veterinary technicians will have a lot of interaction with pet owners, it is important that they are able to communicate well with them.
Program Goals
Teach an attitude of personal student ownership of their education.
Teach an attitude of excellence.
Teach an attitude of teamwork.
Teach an attitude of professionalism.
Teach the difference between fundamentals (principles) and techniques (style).
Teach client education fundamentals wherever applicable.
Teach preventative health principles wherever applicable.
Teach a respect for animal owners, as well as their animals.
Teach technical skills with all of the latest technology and techniques of modern veterinary practices.
Prepare students for the Veterinary Technician National Examination (VTNE) given upon graduation.
Articulation Agreement with Northwestern State University
Delgado Community College has entered into an articulation agreement with Northwestern State University for 2 + 2 A.A.S. in Veterinary Technology to B. S. in Biology with Veterinary Technology concentration.
Who to Contact:
Dr. Christopher Lyles
Director and Assistant Professor
112C Bienvenu Hall
Natchitoches, LA 71497
Phone: 318-357-6514
lylesc@nsula.edu
Note: Students will not need to travel to NSU to complete this degree program. The courses are offered online/remotely. Please note at least 30 hours must be completed at NSU (online is acceptable) to graduate with this degree from NSU.
Graduates of the Delgado program must have passed the VTNE to receive credit for certain courses and to enroll in this program.
Accreditation
This program is accredited by: American Veterinary Medical Association Committee on Veterinary Technician Education and Activities (CVTEA).
1931 N. Meacham Road Suite 100
Schaumburg, IL 60173
800-248-2862 ext. 6624
FAX: 847.285.5732
Email: jhorvath@avma.org
American Veterinary Medical Association Website
Program Effectiveness Data
Credentialing Examination Pass Rate (2020-2023)
| CATEGORY | TOTAL JULY 1, 2020– JUNE 30, 2023 |
| --- | --- |
| Number of first-time candidates that have taken the VTNE | 33 |
| Three-Year Pass Rate on VTNE Percentage | 36% |