Delgado Cares
Saltwater Intrusion Updates
Please be advised that we are closely monitoring the impact of the increased potential for saltwater intrusion from the Gulf of Mexico into the Mississippi River. As new information becomes available, the College will share it on the Delgado Cares webpage. Please check this page regularly for the latest updates.
What is the most recent coronavirus information for Delgado Community College students, faculty, and staff?
We are continuing to monitor COVID-19 and the College is prepared to pivot at any time in response to the COVID-19 pandemic. However, we all have a responsibility to keep ourselves and others safe.
Stay home if you are sick and notify your supervisor. Students who are sick must stay home and must be provided opportunities to make up assignments due to illness.
Practice good hygiene, including covering your mouth when coughing or sneezing, using hand sanitizer stations when entering common areas, and washing your hands multiple times a day.
We will continue to operate using the increased cleaning protocols recommended by the CDC to ensure that all campus buildings are cleaned and disinfected consistently with that guidance.
Our HVAC and Ventilation systems have been equipped with an Ultraviolet Germicidal Irradiation System (UVGI). UVGI lights are engineered to target and eradicate very specific types of airborne contaminates, specifically bacteria, viruses (COVID), and airborne microbes. Also, portable HEPA air purifiers will continue to be strategically placed throughout all campuses and sites.
COVID-19 Testing and Vaccination

How is Delgado Community College sharing information about COVID-19 with students, faculty, staff, and visitors?
Updates about the disease and ongoing efforts to keep our community healthy and our students well-served are being posted as needed on the Delgado website. You are now on the page where this information is presented. You may also follow Delgado on Facebook, Twitter @delgadocc, YouTube, and on Instagram at delgadonola.
In the event that Delgado needs to communicate emergency information, the fastest way to receive that information is by a message from Delgado Alert. Register now for Delgado Alert so that important information can be provided directly to you in times of emergency. If you have already registered, log on to Delgado Alert now and make certain your registration is still active. Re-registration is required periodically.
Cares Act Higher Education Emergency Relief Fund
Delgado Community College has been awarded the following stimulus funds from the Cares Act for Higher Education Emergency Relief:
Institutional Portion - total awarded $47,625,438 (Includes HEERF I, II, & III)
These funds are being used for Software, Technology Upgrades, Equipment and Lost Revenue.
View Delgado's Quarterly Budget and Expenditure Reporting under CARES Act:
HEERF I
HEERF II
HEERF III
ANNUAL REPORTS
Cares Act Relief Student Emergency Funding - Total awarded $34,177,447 (Includes HEERF I, II, & III)
Minority Serving Institution -total awarded $2,114,191 (Includes HEERF I, II, & III)
These funds are being used to cover loss revenue related to COVID-19, which includes the Childcare Center, Fitness Center, SELF Funds and Non-Credit.
Instructional delivery, personal protection, and campus safety during the COVID-19 pandemic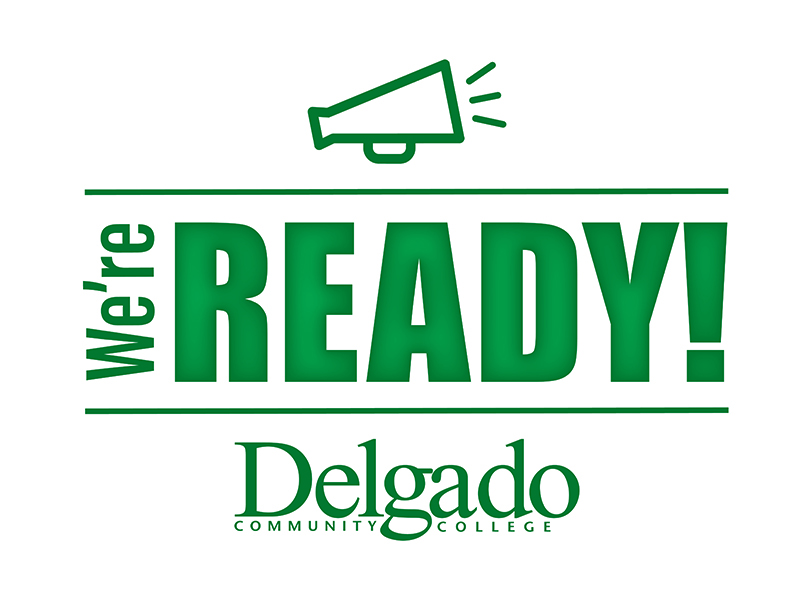 We're Ready. Delgado Community College stands ready to welcome our students, faculty, and staff for the semester. We know that not all students thrive in every type of learning environment, so we're offering classes in different ways. Learn more about course types.
Registration is open and students are encouraged to register early. Please note the different types of courses when you register and make sure you're choosing the option that is the best fit for you. Student Services staff and academic advisors are available to assist with questions or concerns.
Since 1921, in good times and during challenging times, Delgado has been here for you. Our stability is our strength, and our strength is in our college family. Despite changes, our mission to improve lives remains our motivation.
We're Delgado Community College. We're ready for you.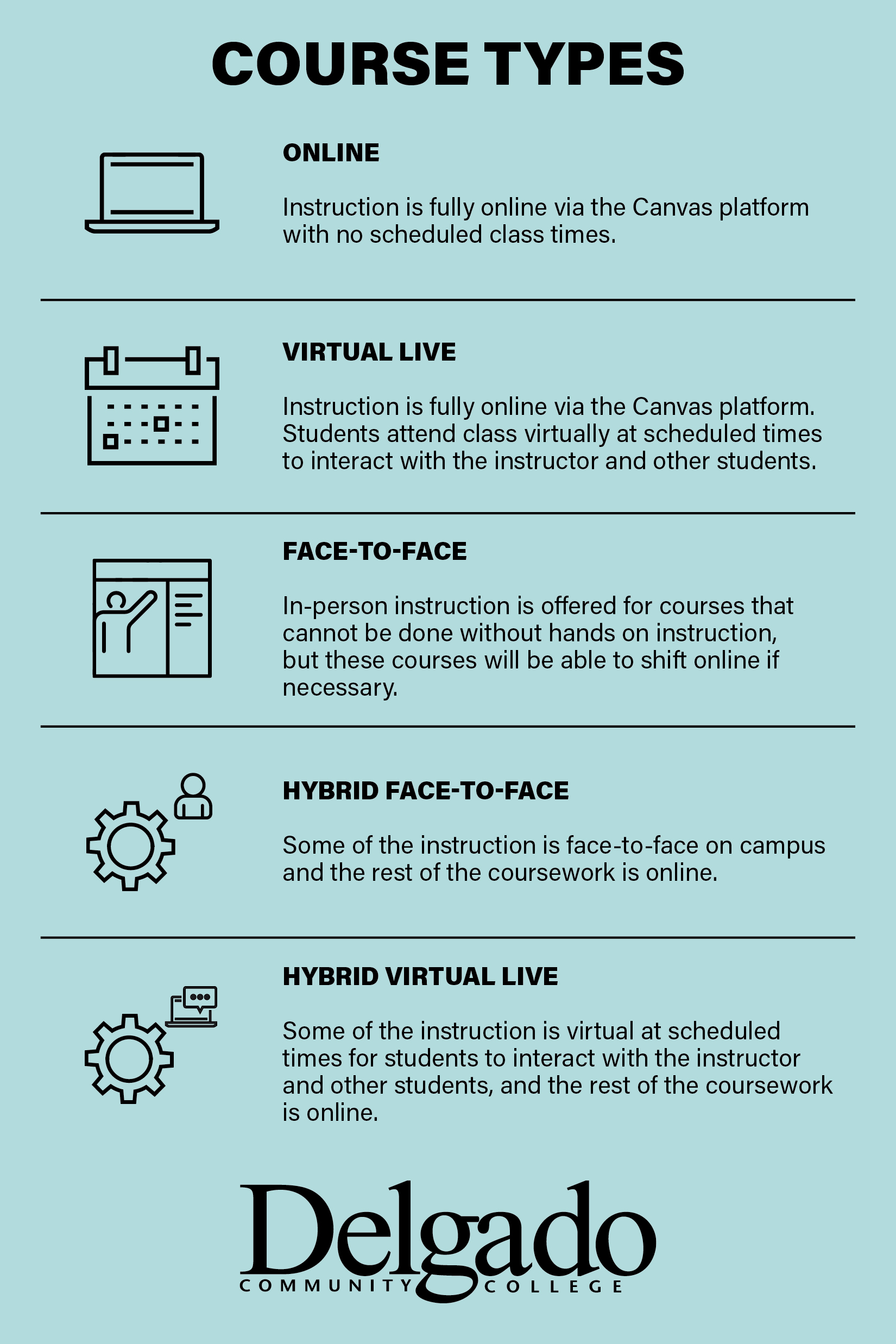 Important documents and communications about COVID-19 and the Delgado response.