Never Stop Learning
In this ever-changing world, we must never stop learning. Delgado Community College has many ways to help you reach your goals. Whether it's to transfer to a university, earn a certificate in cloud computing, or identify the fruity notes in your favorite wine in our wine appreciation course, Delgado has a program for you. We have dedicated a full week to helping you envision your path, wherever you are in your journey. Come join us for a week of workshops and events during Never Stop Learning Week. Attend a virtual event, schedule a campus tour, or meet with one of our enrollment specialists today.
Schedule a Campus Tour, Meet with an Enrollment Specialist, or Attend a Virtual Event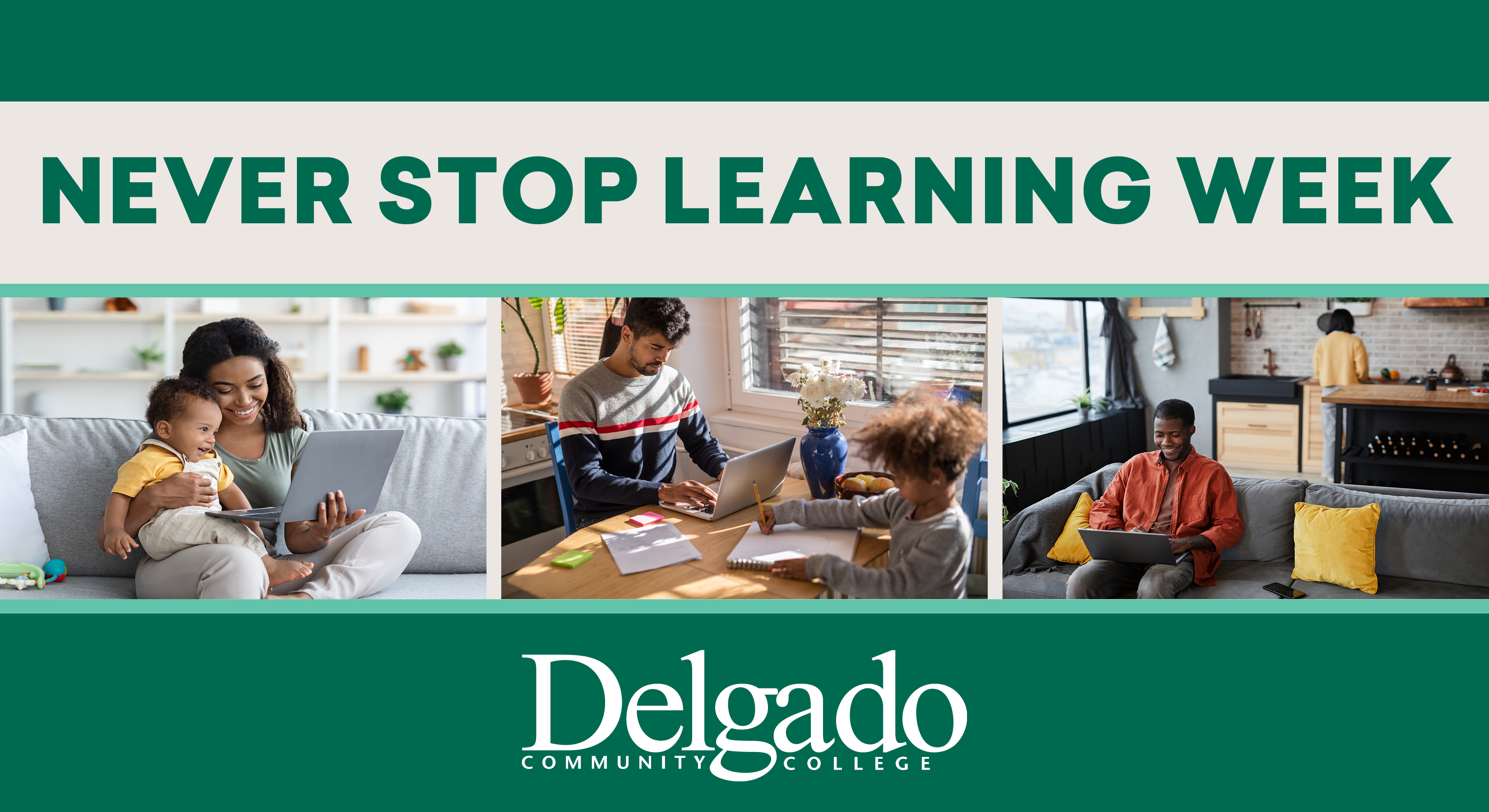 June 18 - 23, 2022
Virtual Preview Day
June 18, 2022
10 - 11 a.m.
Learn about Delgado and meet with faculty from various programs at the college.
Virtual Career Exploration Workshop
June 20, 2022
6:30 - 7:30 p.m.

Walk through a demo of our career assessment program
Learn how an education at Delgado can put you on the right path to a new career, career advancement, a new passion, and more!
Financial Literacy workshop (In-person and virtual)
June 21, 2022
6:30 - 7:30 p.m.
Topics will include financial planning for college, scholarship opportunities, and more
Health & Community Resource Fair
June 22, 2022
2:30 - 6:30 p.m.
Join us at the City Park campus for a series of workshops, a community resource browse with services from various college and community partners (list TBA), campus tours, activities for kids, and enrollment assistance. Bring your whole family to learn about Delgado!

Bilingual ESL/Adult Ed/Enrollment Workshop

(In-person and virtual)
June 23, 2022
6:30 - 7:30 p.m.


Topics will include an overview of courses that are offered by our Adult Ed and ESL programs, the benefits of attending Delgado, and enrollment and financial aid information. (workshop offered in English and Spanish)