Campus Learning Resources
Skills Lab
The nursing skills lab, located on the 5th floor consists of three rooms. There is a variety of equipment that simulates a clinical setting. Full body manikins and realistic anatomical models aid students in learning clinical skills and procedures. The skills lab supports all courses in the ADN program. Students must adhere to a Safety Policy in the lab.
Having three separate labs provides flexibility in creating learning environments appropriate for the level of the learner. There is video capability for students to view multimedia presentations. Students may also record, review and critique their skill performance.
The faculty may request a specific lab and/or equipment for instructional purposes. Equipment inventory is reviewed and updated on an annual basis. The lab is staffed by a registered nurse who maintains the lab and assists students in practicing skills.
The Human Patient Simulator
Charity School of Nursing employs many technological pieces to assist in student learning, including the most up-to-date tool available - the Human Patient Simulator. The HPS is a high-tech, high fidelity mannequin that responds to nursing and medical actions just as a human body would. The simulators have measurable vital signs, heart and lung sounds, eyes that blink with pupils that respond to light, pulses that can be assessed, and accurately mirror human responses to CPR, medications, intubation, ventilation, and catheterization.
The Charity School of Nursing HPS models reside in the Simulator Learning Lab, which resembles a hospital facility with patient rooms, a nursing station with medical records access, medical supplies, and equipment. Each "patient" room is equipped with recording equipment to document student responses to HPS simulations and their related nursing challenges.
Media Services Department
The Media Services Department provides instructional programs which support and supplement the school curriculum. The physical facilities include a color television studio for creating video programs, a work room with supplies for hard-copy presentations, computer equipment for pre and post digital video creation and staff offices. Faculty, staff and students are encouraged to share their communication talents with others at the School of Nursing by using the computers, data projectors and flat panel televisions that are in the classrooms.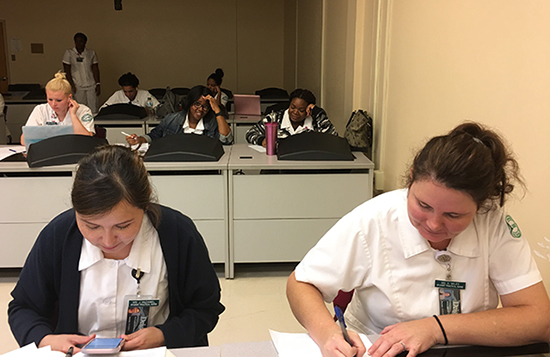 Computer Lab
The Charity School of Nursing computer labs consist of computers that are networked together, providing each with access to a laser printer, CD-ROM drives and internet. Students can utilize all online resources and email. Microsoft Office software, including Word, Power Point, Excel, and Access are available at each station. Computers that are located in the library and first floor lobby are connected to the lab's resources. In addition, wireless technology is available for laptop users to access the Internet from anywhere on the CSN and other DCC campuses.
Library
The CSN Library is a modern and spacious area that contains open stacks of books, bound periodicals and journals for browsing, and computers for world-wide network interaction. As part of the Delgado College Library System, the CSN library shares an automated catalog (ISSAC). The library has computers which provide access to online databases and e books. There are two collaborative study rooms, Nightingale 1 & 2 to be used by groups of students. In addition, research help and bibliographic instruction is available with the school's full-time librarian.