We're ready for Spring Semester
These are definitely times of uncertainty, but there is no need to be uncertain about pursuing and continuing one's education. Delgado Community College is ready to welcome every student this spring.
New Scholarships
Among efforts to be more welcoming to students during the Spring 2021 semester than ever before, Delgado announces an array of new scholarship opportunities.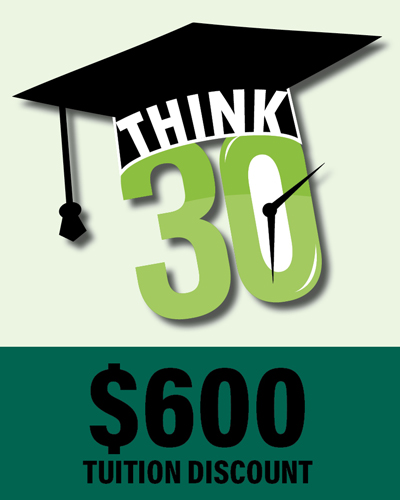 Currently enrolled Delgado students who are continuing their studies in the spring can earn a $600 "Think 30 Award." They must register for and maintain at least 15 credit hours during Spring Semester. The name of the award is based on the fact that students who enroll for 30 credit hours each year are more likely to graduate faster and at less cost.
Returning students—those who have been away from Delgado for one year or longer—are eligible to receive $600 towards tuition and fees through the "Welcome Back" program. They must register for and maintain at least 15 credit hours during Spring Semester.
Students who enroll for at least 15 credit hours in a Technical Division program at Delgado can earn a $600 "Delgado Tech Success Award."
Students who recently completed the HiSET high-school equivalency diploma are eligible for a Delgado "Achiever Scholarship Award" to help pay for Spring 2021 classes. Those who enroll for 12 credit hours can earn $500; those enrolling for six credit hours can earn $250.
Streamlined Tuition and Fees
For years, students who are not Louisiana residents have been assessed a non-resident fee when enrolling at Delgado. That fee will not be charged to anyone enrolling for classes at Delgado as of the Spring 2021 semester.
Non-resident students will be charged about half what they were charged previously, according to the college's most recent tuition and fee schedule. For example, an in-state resident signing up for a full load of classes—12 credit hours or more—would pay $2,040 in tuition and fees under the current schedule. An out-of-state resident would pay $4,184. Starting in the Spring 2021 semester, both will pay the same, smaller amount.
Also, Delgado has eliminated the $40 application fee charged to non-residents enrolling in online classes. There will be no application fee to enroll for any classes offered by the college as of Spring 2021.
Service Innovations
Enrollment services at Delgado are now completely virtual. Students should visit the Online Welcome Desk for help with all matters related to enrollment. Delgado now offers live chat and virtual appointments in addition to email and phone options to assist with scheduling classes for Fall Semester, applying and checking on the status of financial aid, checking the status of an application for admission, and registering for classes through LoLA (Delgado's online student portal).
New Delgado students are no longer required to take the Accuplacer placement exam. Instead, they are automatically eligible for placement into foundational courses. Options remain for those who have qualifying ACT scores or can otherwise show that they are eligible for higher placement. New and continuing Delgado students may discuss options with an advisor online.
The Student Services area as Delgado has replaced actual lines and waiting rooms with virtual, mobile lines through the QLess app. The app enables students to schedule appointments and receive a text message when their turn is approaching.
Instructional Innovations
All academic courses at Delgado this Spring Semester will have some form of online component. Online courses are not new at Delgado. The college has been a leader in online education for more than 15 years, and always offers a large variety of online classes, as well as "hybrid" classes that are part online and part face-to-face. The college will continue to offer online and hybrid classes as before, but new types of classes have been added for Spring 2021.
The college is now offering Virtual Live classes--online classes held at a specific time and day, allowing students to interact with the instructor and other class members as they would in a face-to-face setting, but doing that virtually.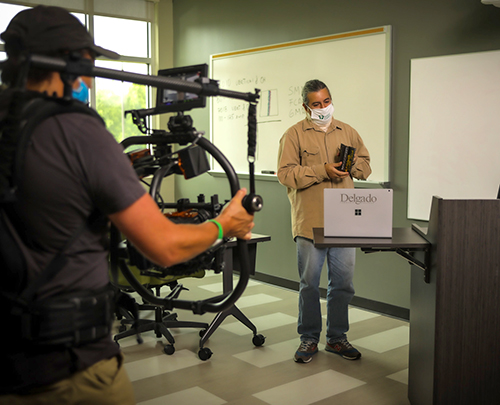 Another new course type is the Hybrid Virtual Live class. In these classes, one day out of the week the student will be asked to login to the online class at a specific time to interact with the instructor and classmates. All other class work will be completed at the student's own pace.
Allied Health, Nursing and Technical Division classes and labs are being offered by hybrid design: some coursework is virtual or online, with face-to-face sessions following all safety protocols.
Classrooms are arranged to seat students at least six feet apart and each class size will be limited to half its normal occupancy.
Because the college recognizes that students do not have equal access to online technology, Delgado has created a laptop loan program to provide access and knowledge about using technology. Students enrolled for at least six credit hours can apply for a laptop with free Wi-Fi access via a mobile hotspot. The number of devices is limited, and devices will be loaned on a first-come, first-served basis.
Strict Safety Measures
Everyone can expect to have their temperature checked and be interviewed by Campus Police about their general health when they visit any Delgado location. Masks are required for all students, faculty and staff. Plexiglas barriers are installed in key locations that host frequent interaction, including Student Services.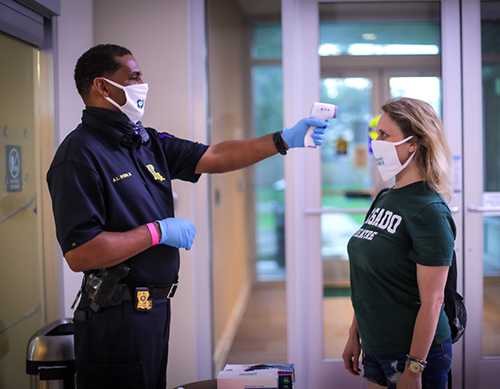 Since the college closed its campuses and sites in March 2020, the cleaning staff has worked to ensure that safety and health measures are in place. This includes enhanced sanitation techniques using CDC-approved equipment and chemicals. Frequently touched areas including bathrooms, light switches, doors, counters and shared areas are cleaned multiple times each day. Surfaces in libraries, labs and other settings with hands-on materials and equipment are cleaned and disinfected before and after use. Immediate and intense protocols for isolating, cleaning and disinfecting surfaces and items suspected of contamination are also in place to ensure the safety of students, faculty, staff and visitors.
In addition, hundreds of hand sanitizer stations have been placed throughout the college's buildings.
Delgado Community College is ready to serve all students this fall and beyond. Whatever the future may bring, all are welcome to apply, enroll, and succeed in classes at Delgado.